Airbus and Boeing production problems have led US aircraft lessor Air Lease to slash the number of new jets it expects to receive in the second half of 2021.
Air Lease anticipates it will "take delivery of approximately 36 of the 52 aircraft it holds contracts to receive in the last six months of the year, Air Lease chief executive John Plueger says on 5 August.
"Given these [manufacturer] delivery delays, we will significantly scale back our aircraft sales for the remainder of this year and possibly into early 2022," he adds, speaking during Los Angeles-based Air Lease's second-quarter earnings call.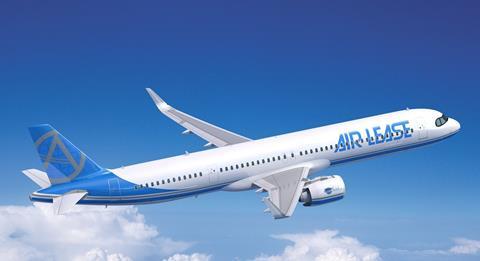 The 52 aircraft Air Lease was to receive in the second half of 2021 include 10 787s, 19 737 Max, three A350s, one A330-900 and 19 A320neo-family jets.
"It is unclear at this junction how many 787s we will take for the remainder of this year, but our best estimate today is approximately three," Plueger says. "We have recently been notified by Airbus of some slippage in our A321neo deliveries, attributable to Covid or supply chain issues."
He does not elaborate.
Plueger's 787 prediction reflects Boeing's ongoing 787 delivery pause. The airframer halted deliveries in May due to an issue related to the flatness of fuselage skins on undelivered 787s. In July, Boeing disclosed another issue involving gaps that failed to meet specifications in the forward pressure bulkheads of undelivered 787s. The company has said the issues do not affect flight safety.
Boeing has not said when 787 deliveries will resume but has predicted it will deliver about half the roughly 100 787s in its inventory. It has also slowed 787 production.
Airbus's deliveries have also slowed, with the European airframer handing over 47 aircraft in July, down from 77 in June. Its July deliveries included 41 A320-family jets, down from 57 in the previous month.