Deutsche Aircraft is confident it will end the year with a launch order for its developmental D328eco, as the regional airline market shakes out in the wake of the coronavirus crisis.
Jose Costas, vice-president of sales and marketing at the German airframer, says that while he cannot disclose names, the company is in discussions with "a number of potential launch customers".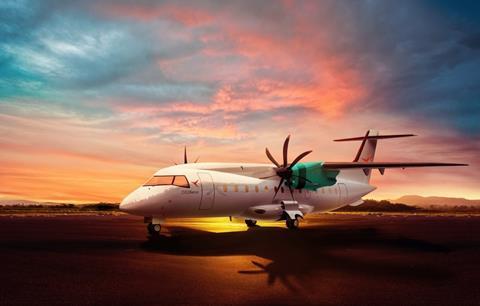 "Before the end of the year we hope to have someone relevant on board," he tells FlightGlobal, although clarifies that this may be an early commitment rather than a firm order, given that service entry is not due until 2025.
As Deutsche Aircraft continues to work through the preliminary design review (PDR) phase it will in the second half of this year bring together a customer advisory board in order to help refine the configuration of the modernised Dornier 328 twin-turboprop.
Its plans call for a 2.1m stretch of the fuselage, raising accommodation to a maximum of 43 passengers, 10 more than the previously. Maximum take-off weight also increases by 1,700kg (3,750lb) to 15.6t – the same as the legacy jet-powered 328-300.
Costas believes that the likely commercial economics of the D328eco versus small regional jets can persuade operators to switch to the turboprop as the industry rebuilds in the post-Covid world.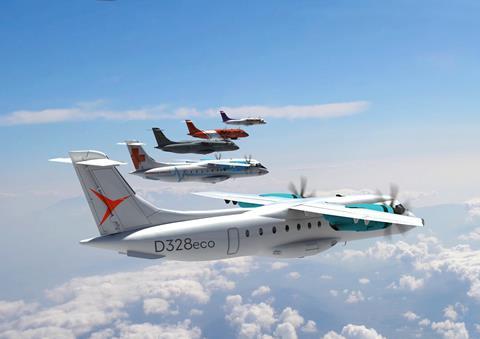 Changes to travel patterns and behaviours will requires airlines to rethink operating models, he argues, while a possible population shift away from urban areas will also drive a need for new routes from secondary airports.
"All of these changes are bringing new dynamics to a segment that was pretty quiet," he says.
Key suppliers to the programme have recently been announced, including Garmin and GKN which will supply the flightdeck and empennage and tail, respectively.
Costas says a number of additional partners will be revealed shortly, likely to include suppliers for the wings, fuselage and landing gear.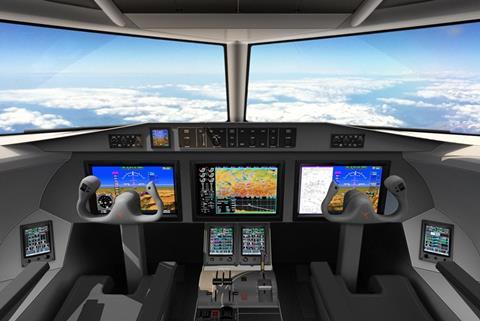 Pratt & Whitney Canada is to provide its PW127S engines for the D328eco, replacing the PW119Cs of the earlier 328-100. Maximum take-off power on each powerplant rises to around 2,750shp (2,050kW) at 1,200rpm, from 2,180shp at 1,300rpm.
Deutsche Aircraft intends for the aircraft to be able to operate on 100% sustainable aviation fuel (SAF) and Costas says it has received assurances from the engine manufacturer that the powerplants will be compatible.
"Together with P&WC there is a roadmap to get to that level," he says, although notes that it is "too early to tell" what percentage will be achieved by service entry.
Garmin's presence on the aircraft – a first foray into the airline segment for the US firm – is driven by its ability to deliver a flightdeck based on its G5000 suite that will in future enable a transition to single-pilot operations.
Costas says the airframer is already talking to the European Union Aviation Safety Agency to understand "what's the roadmap to get to single-pilot [operations]".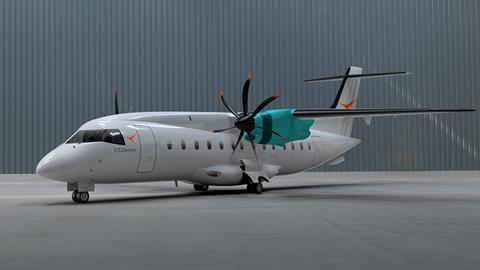 Deutsche Aircraft aims to conclude the PDR process for the D328eco by year-end, with the critical design review following around 12 months later, allowing the flight-test campaign to commence in early 2024.
Two prototypes will be constructed at Deutsche Aircraft's current Oberpfaffenhofen site, before serial production begins at a new facility at Leipzig Halle airport.
That will be sized to support production of 40-50 aircraft per year, depending on demand; Costas anticipates reaching a rate of 48 per year around three years after service entry.