French aircraft manufacturer Daher has agreed to purchase Triumph Group's aerostructures business in Stuart, Florida for an undisclosed sum – another in a series of divestitures by Triumph.
Announced 2 February, the deal further strengthens Daher's US beachhead following its 2019 acquisition of Quest Aircraft.
Triumph's Stuart operation, acquired from Vought Aircraft Industries in 2010, has produced products including fuselage assemblies, wings and other components for Boeing jets, according to various sources.

The companies have not revealed the sale price. Daher plans for the deal to close in the first half of 2022.
"The Stuart operation specialises in the assembly of large, complex metallic structures, such as wing and fuselage assemblies, and has approximately 400 employees," Daher says.
"This significant transaction enables us to position ourselves globally as a key aerospace player," adds Daher chief executive Didier Kayat.
The companies disclosed few details about the planned deal, which remains subject to regulatory review. Triumph, based in Pennsylvania, did not respond to a request for more information. Daher says the deal's sale price might be revealed upon closing.
"This acquisition is perfectly aligned with Daher's… strategic plan, including the goal of significantly developing our North American activities across all of the company's divisions", says Kayat.
Daher's products include the six-passenger TBM 940 and Quest's 10-seat Kodiak 100 – both single turboprops.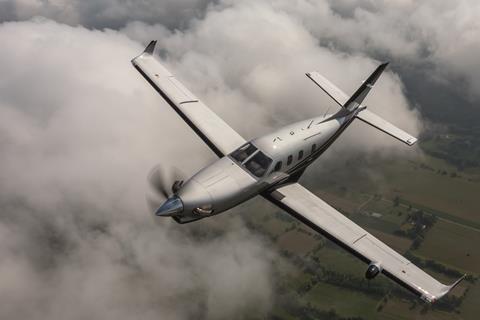 Triumph acquired the Stuart site with its purchase of Vought from The Carlyle Group in 2010, regulatory documents show. Triumph does not specify what products the site now produces. However, an undated Triumph fact sheet says the Stuart facility had made centre wing sections and pressurised doors for 767s, pressurised doors for 747s, wing flaps and ailerons for 777s and wing flaps for 737NGs.
Stuart, Florida is on Florida's central east coast – north of West Palm Beach and south of Cape Canaveral and Melbourne.
The acquisition will "strengthen [Daher's] presence and production capacities in America" and "reinforce the company's offering as an aerospace equipment manufacturer of large structural assemblies and sub-assemblies", Daher says.
The deal will also "strengthen the group's expertise in producing metallic aerostructures", it adds.
The planned acquisition follows Daher's October 2019 purchase of Sandpoint, Idaho-based Quest.
Triumph has been offloading numerous aerostructures divisions in recent years.
In May 2021, it sold three such manufacturing sites to private equity company Arlington Capital Partners, which renamed that business Qarbon Aerospace. Those facilities are in the US states of Texas and Georgia, and in Rayong, Thailand.
In August 2020, Triumph sold a G650 wing supply and engineering business to Gulfstream for proceeds of $52 million.
That followed the October 2019 sale by Triumph of a Nashville structures assembly facility to TECT Aerospace for $58 million. Also that year, Triumph transferred an Embraer E2 component manufacturing contract to AeroSpace Technology of Korea.