French aircraft manufacturer Daher has unveiled its TBM 960, an updated variant of its TBM line of single-turboprop aircraft.
The company revealed the six-person aircraft at the Sun 'n Fun Aerospace Expo in Lakeland, Florida on 5 April.
The updated variant is the fifth generation of the TBM line up, which Daher last updated with the 2019 launch of its PT6A-66-powered TBM 940.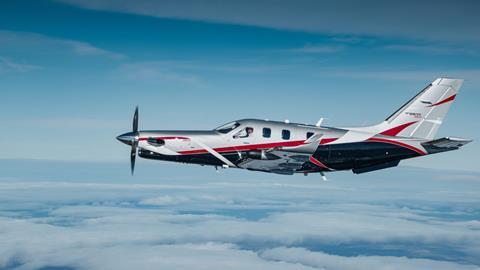 The 960 has a single Pratt & Whitney Canada PT6E-66XT turboprop, a "fully digital e-throttle" and a "digitally controlled cabin", the company says.
The aircraft has a five-blade Hartzell-made propeller, linked to the PT6E with a "dual-channel digital engine and propeller electronic control system" (EPECS).
"The cockpit's power lever is an e-throttle, using a single forward position from take-off to landing," Daher says. The EPECS optimises "powerplant performance throughout the flight envelope while reducing pilot workload by integrating all functions and protecting the engine's life", it adds.
The aircraft has Garmin G3000 avionics and Garmin's GWX 8000 weather radar, a new feature, according to the airframer.
Daher has already achieved certification for the 960 from the European Union Aviation Safety Agency and is working to achieve Federal Aviation Administration certification.
The company aims to begin delivering the type in the first half of 2022. The 960's maximum cruise speed is 330kt (611km/h) and its service ceiling is 31,000ft. At an economical cruise speed of 252kt, the 960's range is 1,730nm (3,204km), says Daher.
The 960's list price is between about $4.6 million and $4.8 million.