The first Dassault Aviation Falcon 6X has arrived at the company's completion centre in the US city of Little Rock, Arkansas, marking another step toward the type's planned year-end service entry.
Dassault ferried the large-cabin business jet – serial number 5, registration F-WZOC – to the USA from its production site in Merignac, France on 28 January, the airframer says on 31 January.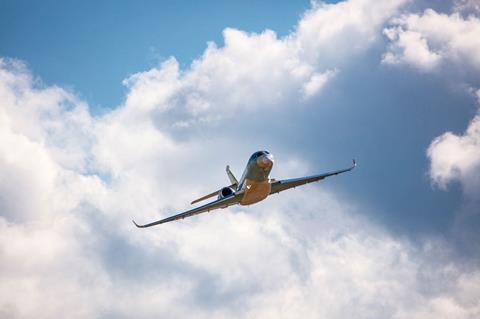 The unpainted jet landed in Little Rock, home to Dassault's 1.25 million sq ft (116,100sq m) facility, at about 13:00 local time.
Dassault anticipates the 6X, powered by twin 14,000lb (62kN)-thrust Pratt & Whitney Canada PW812Ds, will enter service before year-end.
The aircraft will be capable of carrying 16 passengers and have a range of 5,500nm (10,186km), according to Dassault.
"Our teams have been working tirelessly behind the scenes to prepare for 6X completion and we are benefiting from very good momentum as we move towards certification," says Dassault chief executive Eric Trappier.
Dassault opened the Little Rock site in 2015.
"Teams in Little Rock have been preparing for months, anticipating the arrival of the first Falcon 6X with new engineering solutions that aim to accelerate the completion and delivery cycle", the company says. "Engineers have also designed processes that will allow one-shot installation of interiors."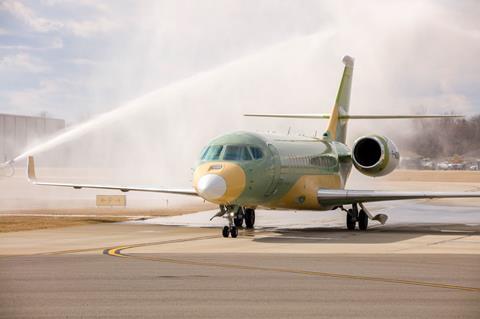 The French airframer launched the 6X programme in 2018 following the company's cancellation of the troubled 5X programme. The first 6X flew in March 2021.
Dassault has pressed three 6X into flight-test duty, with one "undergoing extreme weather and endurance testing", the company says.
Separate from those, Dassault intends to complete first flight of a demonstrator 6X before the end of March. It will take that jet on "a round-the-world campaign intended to demonstrate the full maturity of aircraft systems at entry into service".
Canadian regulators certificated the 6X's PW812Ds last year. Dassault says engine certification by US and European regulators will "follow shortly".