David Curtis, executive chairman of Canadian aerospace company Longview Aviation Capital, will retire on 1 August, ending a nearly 40-year tenure during which Longview acquired major aircraft programmes including the Viking Air Twin Otter and De Havilland Aircraft of Canada Dash 8.
"An international search is underway for a new chief executive officer for the combined aviation enterprise," says Longview. "The board will seek a proven leader to focus on growing the aircraft businesses."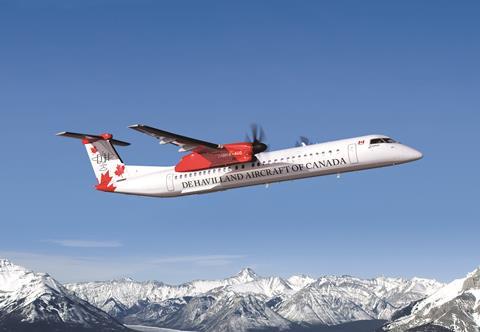 Meantime, Longview will be headed by David Riggs, who the company has named chief transformation officer, a position with responsibility for Longview's entire aviation portfolio.
Riggs has been De Havilland's chief transformation office since June 2020 and previously consulted to Viking about restarting Twin Otter production.
Curtis joined Viking in 1983 and became the airframer's president and CEO in 1991. On his watch, Viking launched the updated -400 series Twin Otter and brought the type back into production, delivering the first -400 in 2010 following a 22-year production pause.
Curtis also led Viking through its 2016 acquisition from Bombardier of the CL-series water bomber programme, and its 2019 purchase, also from Bombardier, of the Dash-8 airliner programme. The acquisitions gave the company the "entire original product line of the De Havilland aircraft company", Longview says.
"This organisation has all the qualities necessary to lead the post-pandemic industry, including talented people, great assets and a committed owner with a long-term perspective," Curtis says. "With the industry in the midst of a transition, it is an excellent time for renewed leadership."
Other staff changes at Longview include the transition of Don Boitson, who has overseen Longview's western Canada operations, to chief operating officer of the entire company.
The changes come as Longview's airframer subsidiaries seek to rebound from the pandemic.
In February, Longview said it would "pause" Dash 8-400 production, citing "prevailing industry circumstances have hindered the ability to confirm new aircraft sales". It also said it planned to vacate the manufacturing facility in the Downsview area of Toronto where it makes Dash 8s.
Longview's lease of that site expires this year. The company has insisted it remains committed to the long-term success of the Dash 8.
"There are a number of excellent production site options in Canada, and the company will be ready to meet new aircraft demand as the industry recovers," Longview said in February.