De Havilland Canada and Canadian aircraft modification company PAL Aerospace intend to offer a special-mission variant of the Dash 8-400 turboprop to the Royal Malaysian Air Force.
The "Dash 8 P-4" would be a maritime patrol aircraft (MPA) and have capability to perform intelligence surveillance and reconnaissance (ISR) tasks, the companies said on 25 February.
Malaysia has for some years been seeking a new MPA capability.
"PAL Aerospace and De Havilland Canada are currently working together to offer a comprehensive Dash 8 P‐4 MPA solution for the Royal Malaysian Air Force's ongoing maritime surveillance aircraft procurement," they say.
"The considerable cabin space, payload capacity, best‐in‐class airspeed profile and advantageous operating economics of the Dash 8‐400 platform… provide an ideal foundation from which to launch the Dash 8 P‐4 programme," says Jake Trainor, chief executive of St John's, Newfoundland-based PAL.
A digital rendering of the P-4, released by De Havilland, suggests the aircraft would have an electro-optical/infrared sensor turret under its nose, a maritime search radar housed in a faring under the fuselage aft of the wing, and an aft magnetic-anomaly detector boom for submarine hunting.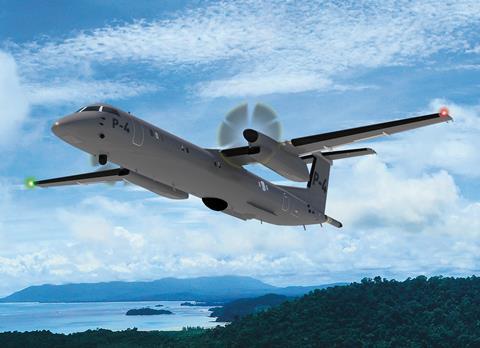 David Curtis, executive chair of De Havilland parent Longview Aviation Capital, cites PAL's "unmatched credentials in the design and modification of MPA and ISR aircraft".
PAL develops special-mission aircraft, trains special-mission pilots and processes ISR data. It supports the Royal Canadian Air Force's special-mission Airbus C295s and, in 2017, partnered with Thales to develop an ISR variant of the earlier-generation Dash 8-300.
PAL also operates aircraft. Its fleet includes two Dash 8-300s and seven Beechcraft King Air 200s, according to Cirium fleets data.
"We… believe strongly that the Dash 8 P‐4 will prove to be a market leading MPA and ISR solution while supporting highly skilled employment and the development of critical intellectual property here in Canada," adds Curtis.
The P-4 could have auxiliary fuel tanks, giving it "superior range, endurance and time on station", the companies say, adding that the aircraft could have a mission time exceeding 8h.
"PAL Aerospace and De Havilland Canada believe there exists a significant global market for missionised turboprop aircraft, especially in the MPA and ISR market," they add.
The companies have released few details about the P-4's likely capabilities or their development timeline, and did not immediately respond to a request for more information.
The baseline version of the Pratt & Whitney PW150-powered Dash 8-400 has 1,100nm (2,040km) range, maximum cruise speed of 360kt (667km/h) and can carry up to 90 passengers, according to De Havilland.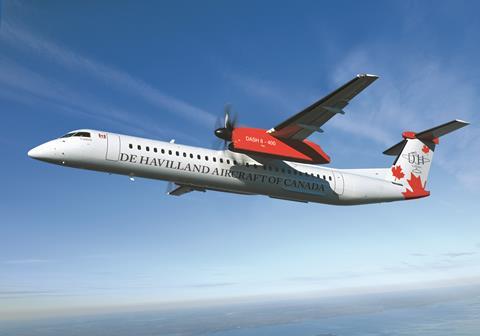 News of the possible development of the P-4 came one week after Toronto-based De Havilland said it will temporarily "pause" Dash 8-400 production due to the Covid-19 pandemic. De Havilland will move out of its leased manufacturing site in the Downsview section of Toronto and seek a new facility, it says.
Longview acquired the Dash 8 programme from Bombardier in May 2019. At that time, De Havilland chief operating officer Todd Young told FlightGlobal he envisioned special-mission variants of the Dash 8-400.
Story updated on 25 February to include details about the P-4's mission time.