Turboprop manufacturer De Havilland Canada and UK propulsion company ZeroAvia intend to develop hydrogen-electric propulsion systems for integration into a Dash 8-400 turboprop, with certification targeted as soon as 2026.
The companies have signed a memorandum of understanding covering the project, which includes developing a Dash 8-400-based demonstrator, De Havilland and ZeroAvia say on 14 December.
The deal also provides De Havilland with options to buy 50 of ZeroAvia's in-development hydrogen-electric engines. Those options remain unconfirmed until the companies complete a final agreement.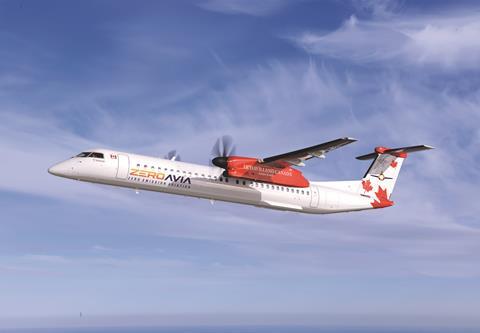 The news comes one day after United Airlines said it had invested in ZeroAvia and that it plans to equip Bombardier CRJ regional jets with ZeroAvia's hydrogen-electric systems.
Like for the CRJ, ZeroAvia is developing a version of its in-development ZA2000 propulsion system for the Dash 8. That system will generate more than 2,682hp (2MW) of power.
The modification involves equipping aircraft with tanks holding hydrogen, and using that hydrogen to generate electricity in fuel cells, ZeroAvia's website says. Fuel cells use hydrogen and air to create electricity, and emit water.
The companies will develop a "service bulletin for the Dash 8-400 type certificate offering ZeroAvia's hydrogen-electric engine as a line-fit option for new aircraft". They will also create "an OEM-approved retrofit program for in-service aircraft", they say.
"ZeroAvia will develop a flight demonstrator, with De Havilland Canada's support, using a Dash 8-400 aircraft to aid certification and showcase the operational and commercial potential of the engine," they add. "The intention is to identify a suitable existing route utilising the aircraft and aim for entry into service within the next five years."
Additionally, the companies intend to "jointly market" hydrogen-electric-powered aircraft and to provide operators with "power-by-the-hour" service support.
They do not say when the demonstration aircraft might make first flight. De Havilland did not immediately respond to a request for more information.
In October, US airline company Alaska Air Group said it was partnering with ZeroAvia to equip one of its Dash 8-400s with ZeroAvia's ZA2000s. De Havilland has not specified its involvement in Alaska's project.
ZeroAvia expects to fly a smaller, 19-seat aircraft powered by one conventional engine and one hydrogen-electric powerplant "in the coming weeks", and to fly the same aircraft with only hydrogen-electric systems in 2022.
Also in 2022, ZeroAvia plans to complete "full-thrust ground demonstrations" of a 1.8MW ZA2000 variant.
By 2026, the propulsion provider plans to achieve certification of a "ZA2000 powertrain to support 40-80-seat aircraft with a potential range" exceeding 700nm (1,296km).
By 2027, ZeroAvia anticipates achieving certification for a hydrogen-electric system for aircraft with 70 to 90 seats.