De Havilland Canada may have left the limelight to arch-rival ATR when it pulled out days before the Singapore air show over concerns about the spread of the coronavirus, but the Canadian airframer is confident about prospects for its Dash 8 twin-turboprop in the Asia-Pacific region, particularly high-density variants.
The Toronto-based company, which acquired the turboprop programme from Bombardier last year, had planned to display on the static an 86-seat Dash 8-400, one of two delivered to leasing company TrueNoord, and operated by PAL Express, a Philippine Airlines carrier.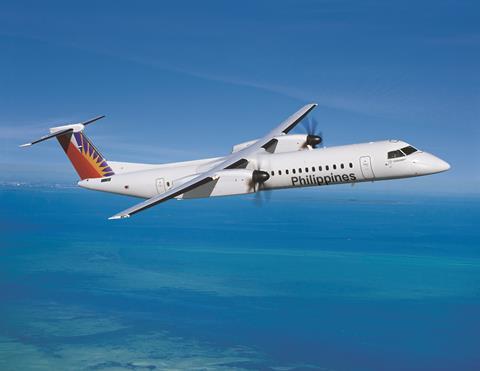 De Havilland Canada also intended to demonstrate at the show the TiSeat E2, an ultra-light seat developed by French manufacturer Expliseat which it says helps airlines accommodate up to to 90 seats, although the densest Dash 8 configuration currently in service is 86 seats.
Former Bombardier executive Philippe Poutissou, who joined last year as vice-president of sales and marketing, says the greater capacity of the Dash 8 is one way De Havilland Canada can "differentiate" its offering from its larger competitor, ATR.
"It can carry more passengers and has that additional range and flexibility of speed when you need to supplement jets – a crucial factor in this region where seat-mile cost is so important," he says.
Poutissou also sees the natural resource sector being a major market for the type in Asia. "You have that combination of short-field capability and ruggedness, and also the fact that it can be configured as a combi version, with 50 seats and just under 3t of cargo," he says.
Ryukyu Air Commuter, an airline that flies from Okinawa in Japan to other islands, operates five Dash 8s in that configuration, and Poutissou says there "is a lot of interest from the oil and gas industry throughout the region".
ATR at Singapore announced PNG Air as launch customer for the short take-off and landing version of the ATR 42-600. The Papua New Guinean airline will use the twin-turboprops to replace part of its De Havilland Canada Q100 fleet.