Following a three-month workforce strike, Canadian airframer De Havilland Canada has resumed Dash 8-400 completion work – but only temporarily.
The company still intends to move forward with a previously announced plan to shutter its Dash 8 manufacturing facility in Toronto, then restart production at a different site when market conditions improve, De Havilland says on 8 November.
The company has restarted the work of "completing the aircraft currently under production", it says. The restart comes after members of union Unifor ratified a contract extension on 26 October.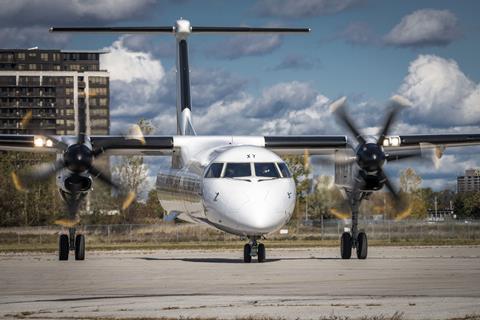 Workers at De Havilland's site in the Downsview section of Toronto started striking in July, a move the union attributed partly to job uncertainty.
De Havilland's parent acquired the Dash 8 operation from bombardier in 2019, but De Havilland's lease at the site is set to expire this year. Earlier this year, citing the pandemic, De Havilland said it would stop Dash 8-400 production after existing orders were filled.
That process is now starting.
"De Havilland Canada will also begin the process of decommissioning the facility," De Havilland says on 8 November. "The manufacturing equipment will be decommissioned and stored while De Havilland Canada reviews future production opportunities."
De Havilland has not said how much longer the site will remain active, or how many undelivered Dash 8s it has on hand. Cirium data shows that De Havilland holds unfilled orders for eight Dash 8-400s.
The company aims "to resume new aircraft production at a new site at the earliest possible time, subject to market demand," the company adds. "We are seeking to stimulate the demand for Dash 8 aircraft. This demand is the prerequisite to new aircraft production."
De Havilland says its production halt "will limit strain on the market and De Havilland Canada's supply base as the pandemic recovery occurs".
Union Unifor said its deal with De Havilland ends a three-month strike.
"In the absence of a commitment to resume production, the agreements provide union members with financial compensation, including retirement incentives, restructuring packages and enhanced severance packages," Unifor said on 26 October. "The agreements also include preferential hiring provisions for union members should production of the Dash 8 resume."