De Havilland Aircraft of Canada has re-launched development of an updated water bomber based on the stalwart CL-series line of firefighting aircraft.
The Canadian airframer has committed to developing its DHC-515 Firefighter, a variant had been called the CL-515 prior to a recent organisational realignment by De Havilland parent Longview Aviation Capital, De Havilland says on 31 March.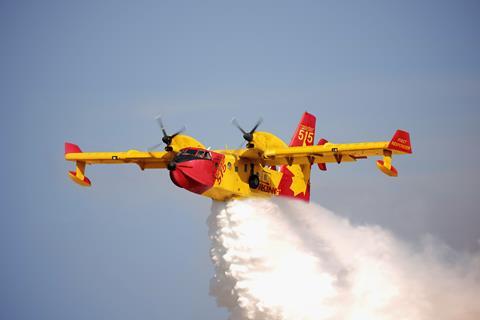 "After an extensive business and technical review, we are pleased to announce that we have launched the De Havilland DHC-515 Firefighter programme, which will involve negotiating contracts with our European customers and ramping up for production," says De Havilland chief executive Brian Chafe.
The move puts the Canadian manufacturer on a path to restarting production of an aircraft family that, over decades, proved its worth in the fleets of the world's aerial firefighting services.
De Havilland aims to deliver its first DHC-515 by mid-decade.
"European customers have signed letters of intent to purchase the first 22 aircraft," De Havilland says. It cautions that the sales require "positive outcome of government-to-government negotiations" involving the Canadian Commercial Corporation – the country's export facilitator.
De Havilland does not disclose additional details and does not name potential customers. It does not respond to a request for more information.
De Havilland also discloses few technical details about the DHC-515, which it describes as the "most-technically advanced multi-mission aerial firefighting aircraft on the market".
The DHC-515 will be an updated variant of CL-series aircraft, which had been products of Viking Air, also a Longview subsidiary. Viking launched the CL-515 in 2019 but put the effort on ice during the pandemic.
Viking previously said the CL-515 would have twin Pratt & Whitney Canada PW123AF turboprops and Collins Aerospace's Pro Line Fusion digital avionics. It was also to have improved corrosion protection, an increased landing weight and ability to carry 7,000 litres (1,850USgal) of water, up from the CL-415's 6,000-litre capacity.
The DHC-515 can be equipped with a "spray boom for insect control or oil-spill dispersant", or a larger cargo door suited for disaster-relief missions, according to Viking's website. They can also be equipped as medevac aircraft.
Viking acquired the CL-series from Bombardier in 2016. Variants included the CL-215, CL-215T and newer CL-415. Bombardier had acquired the line from original developer Canadair and stopped producing CL-415s in 2015.
In February, Longview said it was merging Viking and De Havilland into a single company that would take the De Havilland name.
Viking had for several years teased at developing the updated CL-515. In 2018, it landed a CL-515 launch order from Indonesia, but in late 2020 delayed the launch for an unspecified period, citing the impact of the Covid-19 pandemic.
"To bring the DHC-515 into production is important for not only our company, but countries around the world who rely on our aircraft to protect their people and forests," Chafe says.
De Havilland will assembly DHC-515s in Calgary, where it also performs work on CL-215s and CL-415s. It expects the programme will necessitate hiring some 500 employees. Bombardier had produced CL-415s in Montreal.