DHL Express has ordered another eight Boeing 777 Freighters, providing a much needed boost to Boeing at a time when demand for passenger jets remains severely curtailed.
The express shipping operator, a division of German company Deutsche Post DHL Group, expects to begin receiving the jets in 2022, it says on 12 January.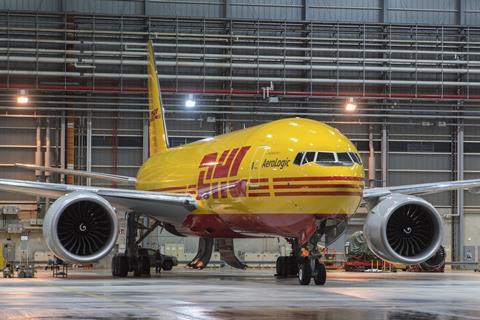 Boeing has reported the orders in its December 2020 activity, though the deal had not previously been disclosed.
"Although the current health crisis has pushed pause on several areas of life, global trade did not stand still," says DHL Express chief executive John Pearson.
"Globalisation, digitalisation and the unprecedented demand of our customers during the recent peak season" pushed DHL's e-commerce shipment volumes up more than 40% in the fourth quarter, Pearson adds. "E-commerce is an enduring mega-trend."
DHL and its affiliate companies had previously ordered 14 777Fs, of which 10 have been delivered, it says. Including four still-undelivered jets from that previous order, DHL's 777F backlog with Boeing now stands at 12 of the jets.
Boeing holds total outstanding orders for 41 777Fs, its website says.