Express package delivery company DHL Express has ordered another six Boeing 777 Freighters, handing the US airframer another in a long string of recent freighter aircraft sales.
The deal brings to 28 the number of 777Fs DHL has ordered since placing an initial order in 2018, Boeing says on 8 March. The carrier, a division of Deutsche Post DHL, has already received 15 of those jets from Boeing.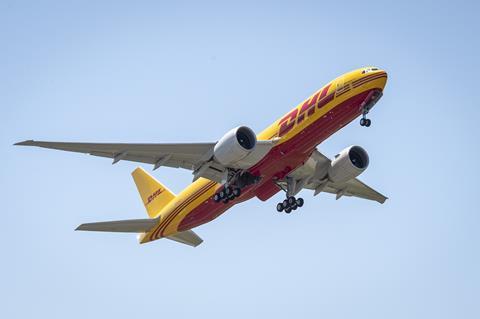 Neither DHL nor Boeing say when the newly ordered jets will be delivered. The companies did not immediately respond to a request for more information.
The order reflects an effort by DHL to "invest in our future and further enhance the capability and reach of our global air network", says DHL global air fleet management senior vice-president Geoff Kehr.
DHL will use the jets to connect its hubs in Cincinnati, Leipzig and Hong Kong, and to serve other markets, he adds.
Boeing's freighter sales team has been on a roll. The company called 2021 a "record" year for its freighter business, with orders for 84 new-production freighters and 100 orders for conversions of passenger jets to cargo aircraft.
That momentum has continued into 2022. Boeing landed orders for five 777Fs in February from an unidentified customer or customers. In January, Qatar Airways became launch customer of Boeing's next-generation 777-8F, with orders for 34 of the type (although 20 of those were conversions of Qatar's existing orders for passenger-configured 777Xs). Also in January, Qatar ordered an additional two first-generation 777Fs, China Airlines ordered four 777Fs and Western Global Airlines ordered two of the same type.
Other customers to recently order freighters from Boeing include Atlas Air, China Airlines, Emirates Airline, FedEx, Lufthansa Cargo, Maersk and UPS.
Story updated on 8 March to clarify Boeing's January orders.