Embraer delivered 28 business and commercial jets in the third quarter of 2020, bringing its year-to-date total to 59 aircraft.
By comparison, the Brazilian airframer handed over 44 jets in the third quarter of 2019, and 117 aircraft in the first nine months of last year.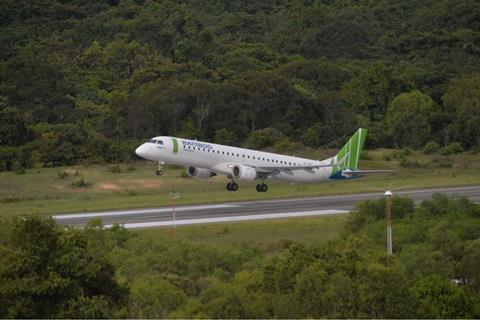 Nonetheless, the latest delivery figures are an improvement over the previous quarter, when the company handed over just 17 aircraft.
In the period ended 30 September, Embraer shipped seven commercial jets: six E175s and one E190-E2. In addition, it delivered 21 executive aircraft: three Phenom 100s, 16 Phenom 300s and two Praetor 500s.
Embraer closed the third quarter with a backlog of 307 firm orders for its commercial aircraft range, down from 314 at the end of June. The total comprises 153 E175s, three E190s, eight E190-E2s and 143 E195-E2s.
Order activity in the period included the conversion by Swiss carrier Helvetic Airways of firm orders for four E190-E2s to larger E195-E2s.