Embraer delivered 22 jets in the first quarter of 2021, up more than 50% from the same period in coronavirus-plagued 2020.
Of the 22 aircraft delivered in the three months ended in March, nine were commercial aircraft and 13 were executive jets, the company, headquartered in Sao Jose dos Campos, says on 27 April.
The Brazilian airframer handed over just 14 jets in the first quarter of 2020 – five commercial and nine executive jets.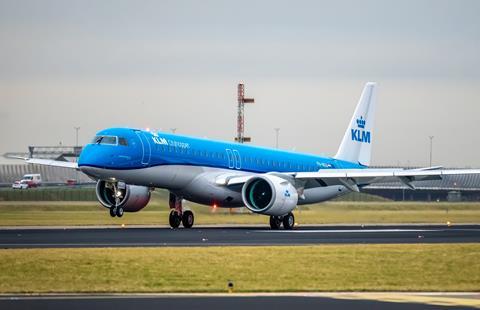 Included in the first-quarter deliveries were two E175s, two E190-E2 and five E195-E2s.
KLM Cityhopper, the regional subsidiary of KLM Royal Dutch Airlines, received its first E195-E2 jet during the period. In the same three months, Nigeria's Air Peace – the aircraft's launch customer in Africa – took delivery of its first E195-E2.
The company delivered 13 executive aircraft: one Phenom 100, nine Phenom 300s, one Praetor 500 and two Praetor 600s.
As of 31 March, the value of Embraer's order backlog stood at $14.2 billion.
The commercial aircraft backlog holds 272 firm orders, down from 281 at the end of the fourth quarter of 2020. The end-March 2021 total comprises 130 E175s, three E190s, five E190-E2s and 134 E195-E2s.