Brazilian airframer Embraer is confident about it's post-coronavirus future after sales jumped and losses narrowed in the first quarter of the year.
The San Jose dos Campos-headquartered company lost $89.7 million in the first quarter, compared to a $292 million loss during the first quarter of 2020, Embraer says on 29 April.
Also on 29 April, Embraer says it signed a 30-aircraft sales deal with an undisclosed customer last week. It also delayed service entry of the E175-E2 by one year, to 2024.
"The first quarter was strong in terms of sales and we do believe this trend will continue through the remainder of the year," says Antonio Carlos Garcia, the company's chief financial officer.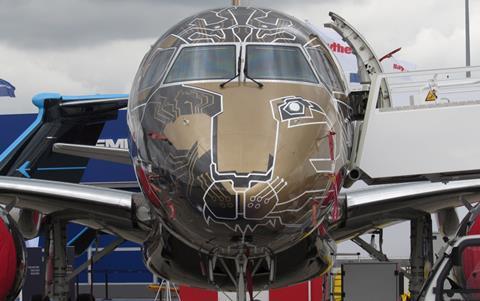 Embraer said earlier this week that it delivered 22 jets during the period, up more than 50% from the same period in coronavirus-plagued 2020. Nine of those were commercial aircraft and 13 were executive jets.
Garcia says aircraft deliveries during 2021 will be "more balanced" than in 2020, when most of the company's 130 deliveries – 28 commercial and 43 executive jets – occurred in the fourth quarter.
The company posted $807 million in first-quarter revenue, a 27% increase compared to the same quarter a year ago. Embraer grew its commercial aviation, defence and security, and executive aviation businesses during the quarter.
Its commercial aviation revenue nearly doubled year-on-year to $272 million, representing 34% of Embraer's total revenue, up from 22% in the same period last year.
Embraer delivered seven E-Jets E2 (two E190-E2s and five E195-E2) during the first quarter. Since the programme launched, it has delivered 17 E190-E2s and 19 E195-E2s. Embraer's E2 backlog stands at 139 – five E190-E2s and 134 E195-E2s.
Embraer will not publish 2021 financial and delivery guidance due to uncertainty as a result of the pandemic.
The value of the company's backlog stood at $14.2 billion at the end of March, down from $14.4 billion three months earlier, and executives stress that recovery will depend on the pace of vaccinations.