Brazilian aircraft manufacturer Embraer says it secured $600 million in export financing and loans , as it deals with the fallout of the coronavirus crisis and the scuppered tie-up with Boeing.
The San Jose dos Campos-based planemaker says about half of the cash will be financed via the Brazilian National Bank of Economic and Social Development (BNDES), with the other half coming from private and public banks. The loans will come due in four years.
The money will provide working capital to help with the production of passenger commercial aircraft as well as executive jets.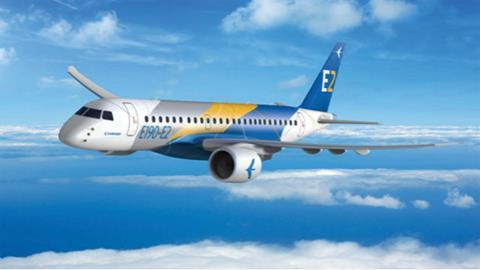 "These working capital financial lines, generally available to exporting companies, will further reinforce the cash position of the company, guaranteeing funds from the production phase through the moment of product shipment for the export market," Embraer says on 15 June.
The fresh money will not alter the shareholder structure at the world's third-largest aircraft manufacturer, and the company says it is looking for further forms of financing if needed.
The announcement comes after the top two aircraft manufacturers, Airbus and Boeing, were able to secure their own bailout packages. Last week, the French government stepped in to deliver an aerospace financial aid package for Airbus and its suppliers worth about €15 billion ($17 billion), while Boeing received assistance indirectly through a nearly $60 billion US government aid package to US airlines. Also, the US government's purchase of billions in corporate bonds bolstered credit markets and preceded Boeing's May issuance of $25 billion in bonds.
Earlier in the day, Embraer said its Commercial Aviation chief executive, John Slattery, will leave the manufacturer, to be replaced by Arjen Meijer, who had until now been Embraer's chief commercial officer.
Slattery will take the role of president and chief executive at GE Aviation in Cincinnati, Ohio later this year. He had led Embraer's commercial aircraft business since 2016 and had been slated to become chief of the Boeing commercial aircraft joint-venture with Embraer, had the tie-up not collapsed in April when Boeing suddenly pulled out.