Embraer's aircraft deliveries tumbled to 14 units in the first quarter of 2022, down significantly from both the previous quarter and the same period in 2021.
The 14 deliveries included six commercial aircraft (four E175s and two E195-E2s) and eight executive jets (one Phenom 100, five Phenom 300s and two Praetor 600s), the Brazilian airframer says on 19 April.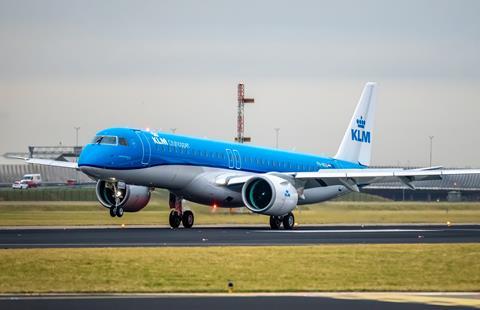 Those figures are down significantly from the fourth quarter of 2021, when Embraer delivered 55 aircraft, including 16 commercial and 39 executive jets. In the first quarter of 2021, Embraer delivered nine commercial aircraft and 13 executive aircraft, for a total of 22.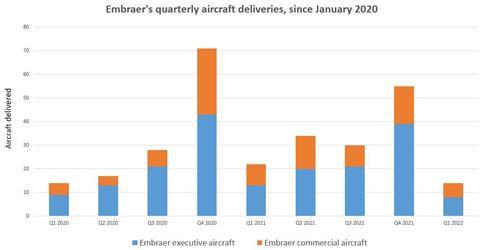 Embraer does not specify factors causing its deliveries to slow in the first quarter, though other aircraft manufacturers typically report fewer deliveries at the start of each year.
The company did not respond to a request for more information but may disclose more details on 28 April, the day Embraer plans to disclose its first-quarter 2022 results.
The first quarter of 2020 was the last quarter when Embraer delivered so few aircraft, its data shows.
Despite deliveries slowing, Embraer's commercial aircraft backlog remains stronger than one year ago. At the end of March, Embraer held outstanding orders for 315 commercial aircraft, up from 272 one year earlier.
The 315 orders include 143 E175s, three E190s, three E190-E2s and 166 E195-E2s, according to the airframer.
Embraer does not disclose its executive aircraft backlog figures.
Update
Embraer on 20 April tells FlightGlobal that its first-quarter deliveries are "atypical" and reflect "reintegration of the company's commercial aviation business", and "services and support in connection with the now-terminated strategic partnership with Boeing".
"The systems reintegration [work] was done in January, during which the factory was mostly closed", Embraer says.
Boeing in 2020 backed out of its plan to acquire majority ownership of Embraer's commercial aircraft business.
Embraer anticipates delivering 60-70 commercial aircraft in 2022, up from 48 in 2021.
Story updated on 21 April to include comments from Embraer in the previous three paragraphs.