Brazilian airframer Embraer closed 2022 on a high, with its deliveries surging to 80 aircraft in the fourth quarter, pushing its full-year deliveries to 159.
The figures show marked improvement for Embraer from the 141 aircraft it delivered in 2021. The company has not, however, yet recovered to its delivery pace in pre-pandemic 2019, when it shipped 198 aircraft.
Through much of 2022, Embraer had been working to ramp production at its manufacturing facility in Sao Jose dos Campos, even hiring Toyota to help improve efficiency on its E-Jet manufacturing lines.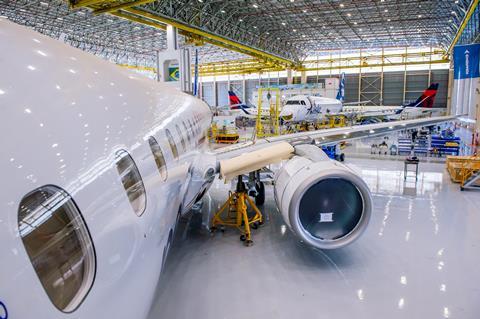 The moves came as companies across the aerospace industry struggled with supply chain trouble.
For the first nine months of 2022, Embraer's delivery rate had been trailing its pace 2021.
But the company made up significant ground in the last three months of 2022 with its 80 deliveries – 45% more than the 55 aircraft it delivered in the fourth quarter of 2021.
The 80 deliveries in the final quarter last year included 30 commercial aircraft (14 E175s, three E190s, one E190-E2 and 12 E195-E2s) and 50 executive jets (33 Phenoms and 17 Praetors).
Across all of 2022, Embraer delivered 57 commercial aircraft (35 E175s, three E190s, one E190-E2 and 18 E195-E2s) and 102 executive jets (66 Phenoms and 36 Praetors).
By comparison, in 2021 Embraer delivered 48 commercial and 93 executive jets.
During the fourth quarter of last year, Embraer also landed new orders for 15 E195-E2s from an unnamed customer and for five of the same type from Spanish airline Binter Canarias.
Embraer closed 2022 with unfilled orders for 291 E-Jets (including 90 E175s, seven E190-E2s and 194 E195-E2s), down from 325 at the end of 2021.