Embraer in recent days completed first flight of an electric-powered EMB-203 Ipanema, part of a project by the company to develop electric technologies for use in future aircraft projects.
The flight happened "several days ago", Embraer chief executive Francisco Gomes Neto says on 13 August.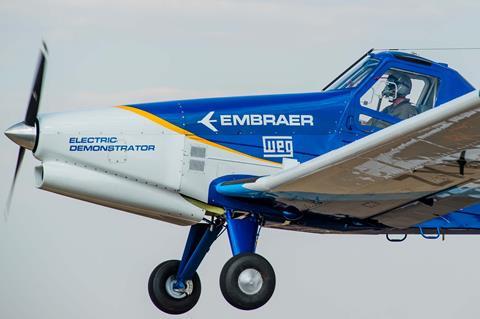 The electric EMB-203's flight-test campaign is based at the company's site in Gaviao Peixoto, in the state of Sao Paulo.
Embraer has not specified the date of the first flight and did not immediately respond a request for more information.
"Power, performance, control, thermal management and operation safety were the primary features evaluated in these manned first flights," Embraer says. "The goal is to demonstrate real flight conditions through results obtained from computational simulations, lab tests and ground integration of technology, which have taken place since the second half of 2019."
The Brazilian airframer markets EMB-203s, which are powered by single Lycoming engines, as agricultural aircraft suited for missions such as crop dusting.
The electric Ipanema has "an electric powertrain system" supplied by Brazilian electronics company WEG, and "a set of batteries funded by" EDP, a Brazilian energy company, says Embraer.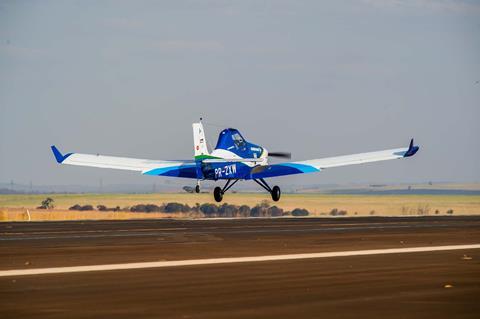 In 2019, Embraer signed a "cooperation agreement" with WEG under which they agreed to "jointly develop new technologies and solutions to enable electric propulsion in aircraft".
In 2020, Embraer said it partnered with EDP; that company was to supply "energy storage and battery charging technologies" for the EMB-203 project.