Embraer's Portuguese maintenance affiliate OGMA has become an authorised Pratt & Whitney PW1100G maintainer, a move Embraer says reflects its push toward revenue diversification.
The Brazilian airframer disclosed the news days after its chief executive stressed that Embraer was seeking new revenue streams as part of a restructuring.
OGMA is now part of P&W's "authorized maintenance centre network", giving P&W its first maintenance, repair and overhaul presence in Portugal, says Embraer.
Embraer, which has owned 65% of OGMA since 2005, calls the move "a strategic step that allows [OGMA] to broaden its scope of activity in the area of engine maintenance and to achieve new business over the next decades".
Notably, OGMA will service PW1100Gs – a geared turbofan (GTF) variant that does not power Embraer jets. Rather, PW1100Gs power Airbus A320neo-family aircraft.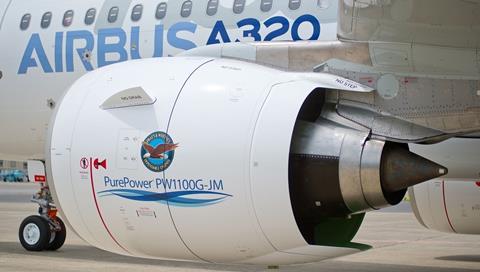 But Embraer services and support chief executive Johann Bordais tells FlightGlobal the work will help Embraer's service business increase revenue by being more "agnostic".
"It is very big milestone in our strategy to remain one of the centres of excellence in engine maintenance in the world," he adds. "I think it was a natural move for Embraer and OGMA."
Bordais anticipates OGMA will expand in future years to maintain other GTF variants, such as the PW1700Gs and PW1900Gs that power E-Jets E2s.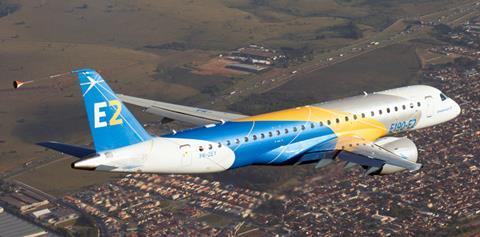 Other GTF variants include PW1500Gs, which power A220s, PW1400Gs, which power Irkut MC-21s, and PW1200Gs, which power Mitsubishi Aircraft SpaceJets.
OGMA will invest €74 million ($87 million) to expand its engine maintenance capability, with most funds expected to be spent within four years.
Embraer forecasts OGMA's revenue will eventually triple to €600 million annually and that the company will hire 300 workers within a "few years".
OGMA aims to induct its first PW1100G for maintenance in late 2022 or early 2023, Bordais says. But first, in 2021, OGMA will begin a PW1100G "industrialisation and training project", says Embraer.
P&W vice-president of commercial aftermarket Dave Emmerling calls OGMA a "highly capable maintenance provider with a long history of engine overhaul experience".
Several days ago, on 10 November, Embraer chief executive Francisco Gomes Neto laid out a restructuring plan that included "diversification… innovation and strategic partnerships".
Other Embraer aircraft with P&W engines include Phenom light jets, with PW500s and PW600s, and EMB-314 Super Tucanos, with Pratt & Whitney Canada PT6A turboprops.
Bordais notes Embraer's relationship with P&W stretches back more than 50 years to the PT6A-powered EMB-110 Bandeirante.