Brazilian airframer Embraer's chief executive of commercial aviation, John Slattery, is to succeed David Joyce as head of GE Aviation.
Embraer has, in turn, disclosed that Arjan Meijer, chief commercial officer of its commercial aviation business, will take over Slattery's former post.
Slattery, 51, will become GE Aviation president- and CEO-elect on 13 July. He will fully assume those roles on 1 September, when Joyce will step down, GE Aviation says.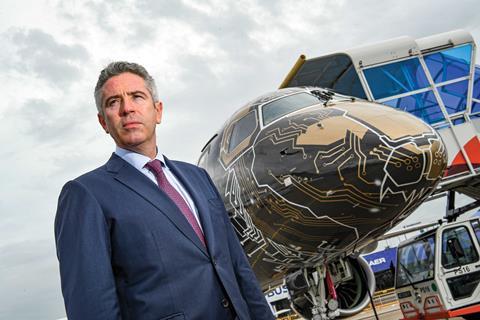 On 1 September, Joyce will transition to the role of non-executive chair of GE Aviation, a position he will hold until 31 December. Joyce will also continue to work as GE vice-chair and an advisor to GE Research through the end of the year, and he will be a "strategic advisor to GE Aviation into 2021", the company says.
Joyce worked at GE Aviation for his entire career and was president and CEO of the engine maker for 12 years.
"It has been a blessing to work alongside incredible GE colleagues and great customers around the world," Joyce says. "I have always been surrounded by a culture that places a premium on harnessing the collective knowledge of such bright and talented people. I will be forever grateful for the opportunities GE gave me to learn and grow both professionally and personally."
Slattery has led Embraer's commercial aircraft business since 2016.
He would have become the chief of the Boeing commercial aircraft joint-venture with Embraer, had the tie-up not collapsed earlier this year when Boeing suddenly pulled out.
Slattery was previously Embraer's chief commercial officer of commercial aviation, and senior vice-president of customer finance, risk and asset management. He joined Embraer in 2011.
Embraer says Meijer succeeds Slattery immediately as head of commercial aviation.
Meijer has been Embraer's chief commercial officer since January 2017, a role in which he led global marketing and sales. He joined Embraer in April 2016 as vice-president of commercial aviation for Europe, the Middle East, Africa and Russia.
He worked for 15 years in various roles at KLM Group, including as vice-president of technical services and fleet development at subsidiary KLM Cityhopper. He also was KLM UK Engineering managing director.
Meijer has a master's degree in aeronautical engineering from Delft University of Technology and a master's degree in business administration from Purdue University.