Brazilian manufacturer Embraer delivered 33 commercial and business aircraft in the third quarter of 2022, a slight year-on-year improvement that still leaves the company's year-to-date deliveries trailing its 2021 output.
In the three months ended 30 September, the company delivered 10 E-Jets, including nine E175s and one E195-E2. It also delivered 23 business aircraft, among them 15 Phenom light jets and eight Praetor midsize aircraft.
Embraer's third-quarter total compares to the 32 jets – including 11 commercial and 21 business aircraft – that it delivered in the second quarter.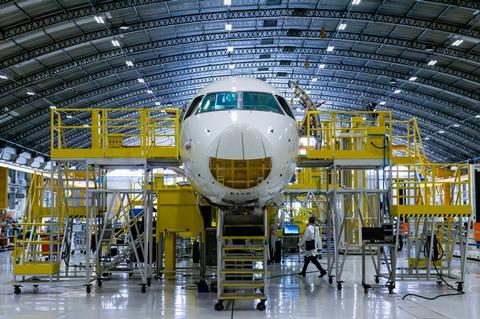 Although Embraer shipped more aircraft in the third quarter than in the same period of 2021 – when it delivered 30 aircraft, including nine E-Jets and 21 business aircraft – its output across the nine months is down on the previous year.
During the first nine months of 2022, the airframer handed over 79 aircraft – 27 E-Jets and 52 business aircraft – against 86 aircraft (32 E-Jets and 54 business jets) in the same period a year earlier.
Embraer said earlier this year that its slower delivery pace reflected a temporary production halt in January to accommodate the reintegration of its commercial aircraft division into its broader business. The commercial aviation unit had been separated during a failed acquisition of a majority stake by Boeing that collapsed in April 2020.
Despite the lagging deliveries, Embraer has padded its backlog in the last year. At the end of September, it held commercial and business aircraft orders worth $17.8 billion, up from $16.8 billion one year earlier.