Embraer-backed air taxi developer Eve Urban Air Mobility Solutions has agreed to provide Blade Air Mobility with up to 60 electric vertical take-off and landing (eVTOL) aircraft, for use in the USA starting in 2026.
Eve will provide Blade with "up to 60,000h of flight time" on eVTOLs annually, "beginning in 2026 for use in Southern Florida and West Coast markets", the companies say on 24 June.
New York-based Blade provides air transport in urban areas using helicopters operated by partners. It intends eventually to offer eVTOL flights.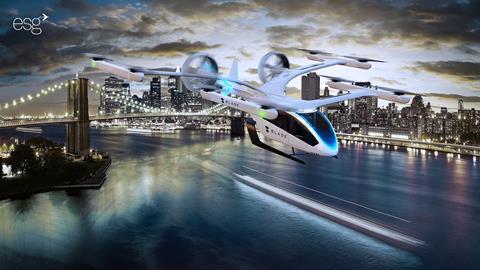 "Blade [has] created a platform that provides the user seamless access to urban air mobility… The company's platform will be instrumental in deploying our aircraft in key markets," says Eve chief executive Andre Stein.
Blade will "pay for flight time utilised on Eve's aircraft," Eve adds, noting that the partnership remains subject to "definitive final agreements".
Eve has secured several recent commitments to sell its in-development eVTOL, which Eve hopes to begin delivering in 2026.
In early June, Eve said Halo, a provider of helicopter travel in the UK and US, had become Eve's "launch partner" with an order for 200 eVTOLs. A week later, Eve said Brazilian helicopter operator Helisul agreed to take up to 50 aircraft.
Few details are known about Eve's eVTOL design, though computer-generated images of the concept show an aircraft with eight vertical props and two pusher props. Eve came into being as a project of EmbraerX – the Brazilian airframer's technology development division. EmbraerX spun Eve into an independent company in 2020.
Blade, which recently became publicly traded through a merger with investment company Experience Investment, is pursuing its eVTOL strategy with other partners. In April, Blade said it signed an agreement to "secure" up to 20 of Beta Technologies' in-development Alia eVTOL. Blade intends to make those aircraft available "for purchase by its network of operators".