Electric aircraft developer Eviation has released video of its Alice prototype completing a high-speed taxi test ahead of its planned first flight.
"Alice completed a high-speed taxi rotation test" on 18 September, Eviation says on 19 September. "This is the final milestone before first flight."
Eviation says it will disclose more information about Alice's first flight in the coming days.
The company performed the taxi test at Grant County International airport in Moses Lake, Washington. Eviation, based in Arlington, Washington, also released several photographs of the aircraft, taken after the test.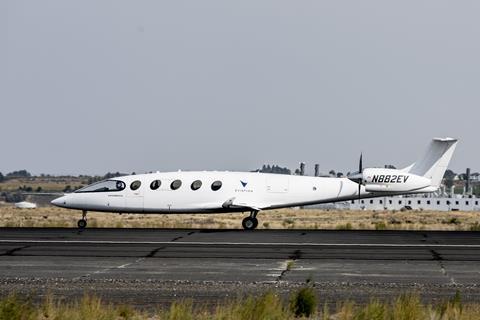 Eviation says Alice will be a nine-seat commuter aircraft with 440nm (815km) of range and maximum cruise speed of 250kt (463km/h). It will be capable of carrying 1,134kg (2,500lb) of payload and will have a maximum take-off weight of 7,484kg, according to Eviation.
US regional airline Cape Air is the type's launch customer, though other airlines – including US carrier Global Crossing Airlines — have agree to buy the type.
The company has for months said first flight is imminent, though the milestone has been repeatedly pushed back.