Brazilian airframer Embraer says its Synthetic Vision Guidance System (SVGS) has gained approval for use in its Praetor 500 and Praetor 600 aircraft in two important jurisdictions.
The San Jose dos Campos-headquartered company on 28 September says that the SVGS has received certification for the aircraft from the FAA and Brazil's civil aviation authority ANAC.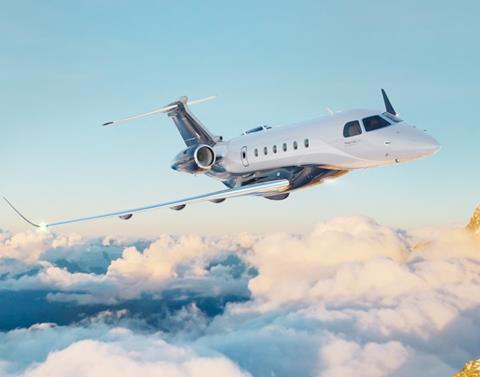 "The SVGS provides pilots with a dynamic perception of position, trend, and motion, facilitating the transition to utilizing visual references and enabling the safe completion of more missions during inclement weather and lower ceiling approaches," the company says.
The system, which can be used with or without a heads-up display, gives pilots heightened situational awareness during bad weather and low-ceiling landings. It allows pilots to make a decision about landing the jets as low as 150 feet above the ground. Embraer says the system can also be retrofitted on all Legacy 450, Legacy 500, Praetor 500 and Praetor 600 aircraft.
The Praetor 500 midsize and Praetor 600 super-midsize jets entered service in late 2019 just over a year after they were presented at NBAA-BACE in 2018. The Praetors are the only midsize and super-midsize business jets with full fly-by-wire technology and active turbulence reduction.
As the coronavirus made its mark on the air transport industry earlier this year, Embraer introduced numerous enhancements to the cabins including a standard high-efficiency particulate air filter, an anti-microbial protective coating, known as MicroShield360 and an electric lavatory pocket door which allows passengers to access and exit the toilet via a touch of a button.