The Federal Aviation Administration confirms it has approved the start of Boeing 737 Max certification flights, clearing the way for that phase of the certification process to begin as early as 29 June.
"The FAA cleared the way for the certification flights to occur. They could begin as early as tomorrow," the FAA tells FlightGlobal. It defers further comment to Boeing.
The Chicago-based airframer declines to comment about the FAA's approval, saying it is letting the agency take the lead.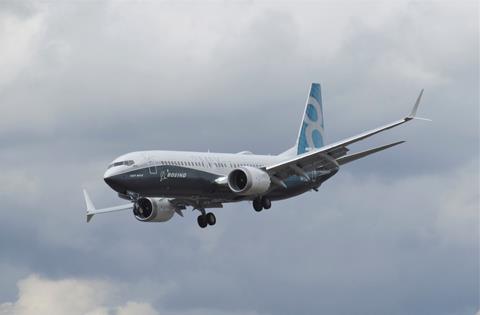 "We continue to work diligently on safely returning the 737 Max to commercial service. We defer to the FAA and global regulators on the certification process," Boeing says.
Bloomberg reports that the FAA emailed Congressional staffers on 28 June saying the agency's Type Inspection Authorization Board "has completed its review, clearing the way for flight certification testing to begin".
Boeing has said the flights could take place over several days.
Certification flights are among the final step prior to the FAA issuing an airworthiness directive (AD) lifting the grounding. The AD will specify measures operators must take before returning the jets to revenue service.
Boeing has said it expects the AD will come in time to permit it to resume 737 Max deliveries in the third quarter of the year.
Other steps the FAA must complete prior to certification include issuance of a pilot training assessment by a Joint Operations Evaluation Board (JOEB). That panel is composed of regulators from the FAA and other countries, and pilots.
The FAA's Flight Standardization Board must then review the JOEB's report and issue pilot training requirements.