UK start-up Electric Aviation Group (EAG) has secured funding from lessor Falko Regional Aircraft as it bids to bring a new environmentally friendly passenger aircraft to market.
However, neither party has disclosed how much has been invested, nor the size of the stake Falko has taken in EAG.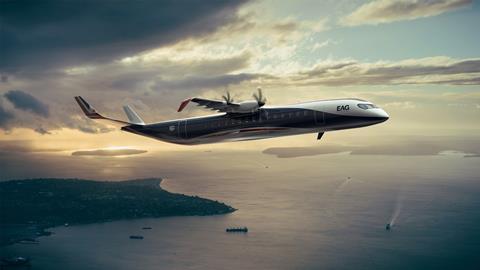 EAG's design, the Hybrid-Electric Regional Aircraft (HERA), will have a range of up to 1,200nm (2,220km) and is designed to replace regional turboprops.
"We are really excited to support EAG at this stage of its development," says Falko chief executive, Jeremy Barnes.
EAG "complements Falko's regional market focus" and the investment "demonstrates our long-term commitment to the development of future technologies aimed at reducing emissions within the aviation sector", he adds.
Kamran Iqbal, founder and chief executive of EAG, thanks Falko for the investment. He says: "The last 12 months have been extremely difficult for the entire aerospace sector but now we can see a light at the end of the tunnel."
EAG plans to validate different powertrain options on a demonstrator aircraft which will begin flying in the 2024-2025 timeframe.
That will inform the configuration of a clean-sheet design, which could arrive towards the end of the decade, plus could open the path to the conversion of existing airframes as an interim step.
EAG last year estimated that it would cost more than $5 billion to bring its clean-sheet aircraft to market.
UK-headquartered Falko specialises in the lease and management of regional aircraft. As of 31 December 2020, its portfolio consisted of 120 aircraft, including both jets and turboprops.
Deloitte Legal advised EAG on the transaction.