Boeing's board of directors has elected former GE Aviation chief executive David Joyce as a new member and disclosed the pending retirement of longtime board member Edmund Giambastiani.
The moves are the latest among a string of recent shake ups to Boeing's board. With Joyce, Boeing's board gains valuable, high-level manufacturing experience as it continues recovering from the 737 Max crisis and weathers the pandemic downtown.
Joyce's appointment takes effect immediately. Giambastiani will retire at year-end.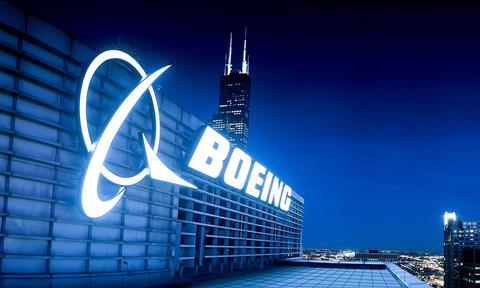 "David Joyce is a recognised aerospace industry leader who brings a demonstrated track record of safety leadership, engineering expertise and operational excellence to our board," says Boeing board chair Lawrence Kellner. "He will provide valuable counsel and guidance based on his significant experience."
Aerospace analyst Michel Merluzeau with consultancy AIR calls Joyce's appointment "a really good move on the part of Boeing".
"He… is really somebody that ticks all the boxes, when it comes to engineering projects, programme management, engines," Merluzeau says.
Boeing's board members hail from various industries, but Joyce, notably, brings extensive aerospace manufacturing experience.
"He is going to make the board… not only [more] credible, but more informed and better equipped to make important decisions," Merluzeau says.
Joyce joined GE Aviation in 1980 as a product engineer and for 15 years designed and developed the company's commercial and military engines. He then took on GE Aviation leadership positions, including vice-president and general manager of GE's commercial engines business. He was GE Aviation CEO from 2008 until retiring in 2020, succeeded by former Embraer commercial CEO John Slattery.
Boeing CEO David Calhoun says Boeing will benefit from Joyce's "experience transforming businesses, and focus on quality and safety".
Giambastiani, former vice-chair of the US Joint Chiefs of Staff, joined Boeing's board in 2009. In 2019, he took the role of heading a newly formed Boeing committee tasked with reviewing the company's aircraft design and development policies and processes. Boeing formed that panel amid the 737 Max crisis.
Boeing's board, now with 11 members, has shifted considerably in recent years. In October 2019, six months after regulators grounded the 737 Max, the company's board stripped former CEO Dennis Muilenburg of the board chair role, placing Calhoun, then a board member, in that position.
In December 2019, the board named Calhoun as the company's new CEO, replacing Muilenburg, shifting director Lawrence Kellner, formerly Continental Airlines CEO, to board chair. That year Boeing also added retired US chief of naval operations John Richardson to its board.
In March 2020, Nikki Haley, former governor of South Carolina and former US Ambassador to the United Nations, quit Boeing's board in protest of the company's efforts to secure pandemic-related financial aid.
Boeing bolstered its board with two new members in 2020: former Qualcomm CEO Steve Mollenkopf and former United Technologies chief financial officer Akhil Johri.
In January, Caroline Kennedy, former US ambassador to Japan and daughter of former US president John Kennedy, resigned and was replaced by former KPMG CEO Lynne Doughtie.
In February, came news that board members Arthur Collins and Susan Schwab were also stepping down. Collins had been on Boeing's board since 2007; Schwab since 2010.