Aviation executive Roei Ganzarski is stepping down from his posts as chief executive of US electric propulsion company Magnix and board chair of electric aircraft developer Eviation.
Ganzarski, who headed Magnix for four years, disclosed his departure in a 6 January LinkedIn.com post.
"It is with a heavy heart that I share that after almost four years I have decided to leave Magnix and Eviation," Ganzarski writes.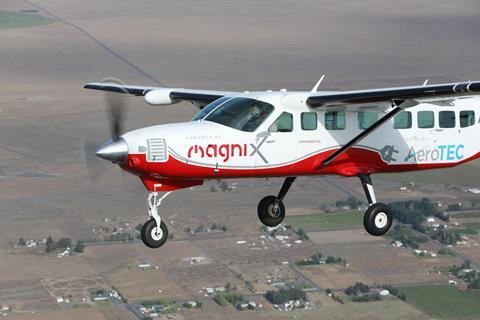 "I have no doubt that the future of aviation is electric," he adds. "I leave Magnix and Eviation positioned to continue their leadership in this field."
The post does not specify why Ganzarski is leaving or say what he intends next. A representative for Magnix and Eviation did not respond immediately to a request for comment.
Singapore investment company Clermont Group owns stakes in Magnix and Eviation. Magnix's headquarters is Everett, Washington, while Eviation is based in Arlington, Washington.
Ganzarski became Magnix's CEO in April 2018 and chair of Eviation in October 2019, according to his LinkedIn profile. Earlier, he worked 14 years at Boeing, holding roles including chief customer officer for flight services.
Ganzarski leaves the companies following a period of brisk advancement, though whether electric propulsion is practical for passenger aircraft remains unproven.
Magnix produces two electric propulsion systems – the 469hp (350kW) Magni350 and 850hp Magni650 – and has been at the forefront of several recent all-electric-aircraft projects.
The company helped develop an electric-powered De Havilland Canada DHC-2 Beaver in partnership with Canadian airline Harbour Air, and worked with aviation services company AeroTEC to develop an all-electric Cessna 208B Grand Caravan. Both aircraft completed flights solely under electric power.
Notably, aircraft developer Eviation chose twin Magni650s to power its in-development all-electric Alice. Eviation is marketing a nine-passenger commuter variant of Alice, a six-passenger executive configuration and a cargo version.
Eviation made news several weeks ago when it released images of Alice taxiing at Arlington Municipal airport.