Joby Aviation, a Silicon Valley-headquartered air taxi company, has unveiled a plan to become a publicly traded company by merging with Reinvent Technology Partners.
Joby disclosed its ambitions on 24 February, the same day it released a video of its five-seat developmental aircraft and announced having hired a top Ford executive as chief financial officer.
The developer of small electric vertical take-off and landing (eVTOL) vehicles has "entered into a definitive business combination agreement" with Reinvent, a special-purpose acquisition company (SPAC) led by LinkedIn co-founder Reid Hoffman, Joby says. Upon closing the deal, Joby will become a publicly traded company listed on the New York Stock Exchange. Reinvent has offices in New York.
The deal marks another instance of an aerospace company going public by aligning with SPACs, also known as blank-check companies. Wheels Up recently unveiled a similar plan, and former Boeing chief executive Dennis Muilenburg launched a SPAC.
"Our long-term vision has always been to build a global passenger service, helping a billion people to save an hour every day, while contributing to the protection of our precious planet," says JoeBen Bivert, Joby chief executive and founder. "Today's transaction lets us look ahead to the next decade and provides us with the resources we need to bring our vision to life."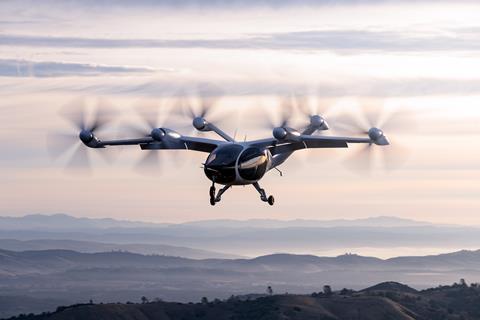 When the companies merge, Joby will receive $690 million in cash from Reinvent and $835 million via a private placement of common stock priced at a $10 per share. It will also convert a $75 million convertible note into common stock at a $10 per share.
The combined company will be worth $6.6 billion, Joby says.
"In Joby we see a remarkable founder-led team that has quietly delivered the most advanced technology we've seen in this sector," says Reinvent's Hoffman. "With valuable strategic partnerships including Toyota and Uber, a compelling business model and an unparalleled track-record of executing against its targets, we believe Joby is well-positioned to create a transformative new human-centred mobility network."
Hoffman will join Joby Aviation's board.
Also on 24 February, Joby presented the first video of its five-seat eVTOL aircraft in flight. Joby plans to offer air taxi services in the craft by 2024. It will transport four passengers and a pilot up to 130nm (240km) on a single charge.
Earlier this month, Joby agreed to a so-called "G-1" certification basis with the US Federal Aviation Administration, laying out criteria for civil commercial operations and paving a path to the aircraft's certification. G-1 designates airworthiness and environmental regulations, including special conditions, that must be met for certification.
Joby also says it is hiring Matthew Allen Field as CFO. Field, currently CFO of Ford Motor Company's North American operation, will join the California-based start-up on 5 March.
Last December, Joby agreed to acquire Uber Elevate, the ride-hailing giant's advanced air mobility operation. Uber, in turn, invested $75 million in Joby as part of what the companies called an "expanded partnership". That deal is expected to close in the first quarter of 2021, pending regulatory review.