US air taxi developer Joby Aviation is "establishing a presence" in the UK to explore offering the company's electric vertical take-off and landing (eVTOL) transportation service in that country.
"We're establishing a presence in the UK to support our work with [aviation regulators], and joining [trade organisation ADS] to help support the successful launch of fast, clean and convenient air taxi services across the UK," the company writes on Twitter on 3 March.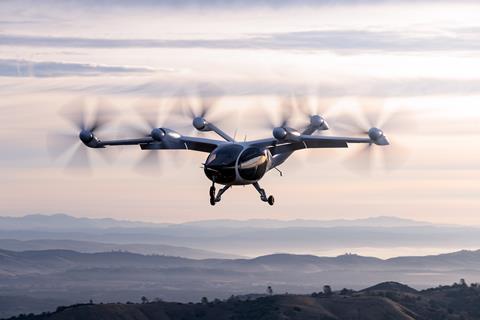 Joby also says it has spent the past year working with the UK's Civil Aviation Authority (CAA) "to facilitate a path to validating our type certificate", and with air traffic control company NATS "to explore the integration of Joby services into the UK airspace".
"The UK has long been a global leader in aviation, and we share the government's vision of a sustainable future for aviation with the introduction of electric and hydrogen aircraft," Joby says. "We look forward to sharing more about our ambitions for the UK market in due course."
Joby's announcement comes a day after the Federal Aviation Administration and the CAA said they will collaborate to evaluate and certify future eVTOL and advanced air mobility (AAM) projects.
In a joint statement on 2 March, the aviation regulators said they recognise that the new technology, being pursued by tens of companies worldwide, could "significantly benefit the public".
Therefore, they've joined up and are "engaged in a range of bilateral and multilateral discussions focused on facilitating certification and validating new eVTOL aircraft, production, continued airworthiness, operations and personnel licensing".
"Both regulators recognise AAM is a collection of new and emerging technologies in the existing aviation system," they write. "Both authorities have a strong history of collaborating in aircraft certification, airspace integration, operations, and infrastructure, which lead to a safer, more-sustainable sector."
Last July, Joby began the application process for a Part 135 Air Carrier Certificate in the USA, and now says it expects to receive it in the course of 2022. The company needs that certificate ahead of a planned commercial launch in 2024.