High-end charter operator K5-Aviation has received an ACJ330-300 from Airbus Corporate Jets – the first ever VIP variant of the -300 airframe.
Airbus order and delivery data shows all its previous 63 deliveries of an A330 into the government, executive and private segment have all been based on the -200; it lists only one order – and one delivery – of an ACJ330-300, which the airframer confirms is the twinjet acquired by K5-Aviation.
With a length of 63.6m (208ft 10in), the A330-300 is 4.84m longer than the -200.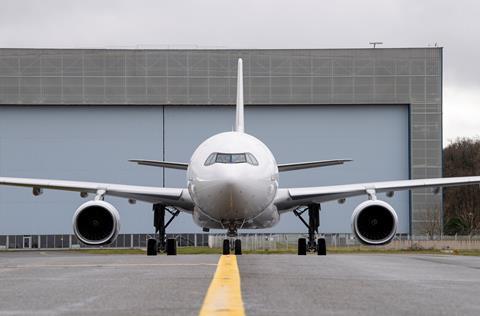 Cirium fleets data suggests the aircraft (D-AXEO/MSN1907) was a 2018-built 'white tail' aircraft subsequently acquired by K5-Aviation. It is powered by Rolls-Royce Trent 700 engines.
It was among the A330-300s ordered by Hong Kong Airlines but subsequently not taken up by the Asian carrier.
The ACJ330-300 will be outfitted with a 243sqm (2,615sqft) VIP cabin, installed by Fokker Techniek in the Netherlands.
Germany's K5 already operates a fleet of three ACJ319s, an ACJ319neo, and an ACJ350-900, plus a Bombardier Global 6000.