Kalitta Air will be the first airline to operate the Boeing 777-300ERSF, a converted freighter being developed by lessor GECAS and Israel Aerospace Industries (IAI).
GECAS reached an agreement under which Michigan-based Kalitta will operate three of the freighters, with deliveries in 2023, the lessor says on 27 October.
Conversion specialist IAI and GECAS launched the 777-300ER conversion programme in October 2019. IAI has been working to secure a supplemental type certificate for the 777-300ERSF variant.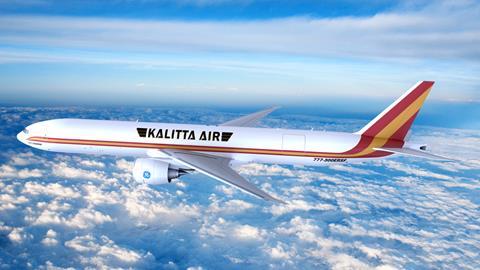 Previously, the developers predicted the type would enter service in 2022, though GECAS now says the Kalitta deliveries will come in 2023.
In June 2020, AIA received, from GECAS, the first 777-300ER to undergo the conversion process.
The modification work involves plugging the 777's windows, deactivating passenger doors, reinforcing the fuselage and floor, and installing a main-deck cargo door.
The 777-300ERSF will have 25% more cargo volume than the 777-200LRF, and 15% more than a 747-400BCF, according to IAI.
Kalitta currently operates 36 Boeing freighters, including 24 747-400Fs, nine 767-300ERFs and three 777-200LRFs, according to Cirium fleets data.