KLM Royal Dutch Airlines has taken delivery of its first Embraer 195-E2 jet for its Cityhopper subsidiary, via lessor ICBC Aviation Leasing, as the carrier continues its fleet renewal with more efficient regional aircraft.
The airline is taking a total of 25 of the E2s, up from 21 previously, leased from ICBC (10) and Aircastle (15), with KLM recently exercising four of 14 options. The four aircraft will come from Aircastle's exisitng orderbook, the Brazilian airframer said on 23 February.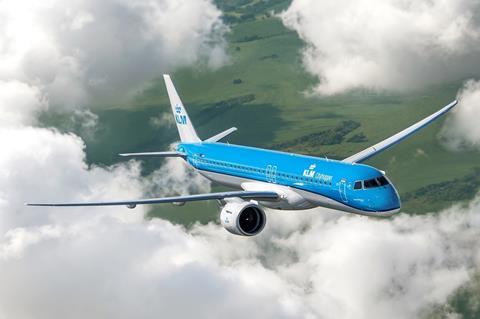 "The new E2 is really going to make a difference," says Warner Rootliep, managing director of KLM Cityhopper. "The addition of the E195-E2 to our fleet is a vital part of our plan to reduce our carbon footprint at least 50% per [passenger-kilometre] by 2030."
"The E195-E2 is not only an economically attractive aircraft, it also fits perfectly within our sustainability initiative," he adds. "We are now, more than ever, committed to reducing the impact of our environmental and ecological footprint. Fleet renewal is currently the largest contributor to CO2 reduction."
KLM has committed to ambitious environmental goals, and last month completed a commercial passenger flight powered partly by sustainably produced synthetic kerosene made from renewable sources.
The E195-E2 is KLM Cityhopper's 50th E-Jet, Embraer says. The airline already has 17 first-generation E175s and 32 E190s.
The new aircraft are configured with 132 seats, of which 20 are in business class, eight in economy-comfort class, and 104 in economy.
This article has been edited to clarify order totals in the second paragraph.