Aerostructures manufacturer Spirit AeroSystems sunk further into the red during the third quarter, as costs from its Airbus A350 and Boeing 787 programmes pushed the company to a $128 million loss.
That compares with a $114 million loss in the same period last year. In the first nine months of 2022, the Wichita company lost $303 million.
"While air traffic is recovering, we continue to see disruptions in our factories due to parts shortages, increased levels of employee attrition and volatile schedules," said Spirit chief executive Tom Gentile disclosing the results on 3 November.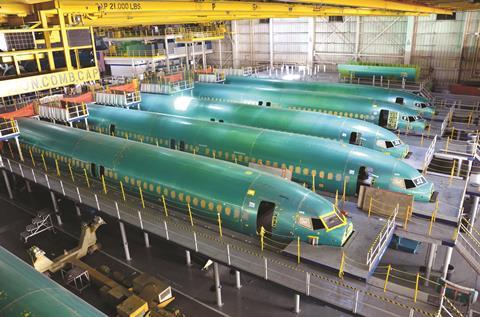 Notably, Spirit's third-quarter revenue jumped 30% year on year to $1.3 billion, primarily reflecting more 737 component deliveries.
Spirit shipped structures for 69 737s in the period, up from 47 in the same quarter of 2021. The company manufacturers 737 fuselages, pylons, wing leading edges, thrust reversers and nacelles.
Spirit is now producing components for 31 737s monthly – the rate at which Boeing is working to assemble 737s – and expects to remain at that output level through "much of 2023", it says.
Spirit also delivered 145 shipsets for A320-family jets in the third quarter, up from 105 one year earlier.
Component deliveries to other programmes during the period – it makes structures for 747s, 767s, 777s, 787s, A220s, A330s, A350s and some business and regional jets – were largely in line with those in the third-quarter of 2021.
Including all types, Spirit shipped components for 316 aircraft in the third quarter, up from 248 one year earlier, it says.
Despite revenue gains, Spirit logged $85 million in forward losses and other adjustments to its commercial aircraft programmes in the third quarter, which pushed it to the $128 million loss.
The company attributes those losses primarily to additional A350 labour, parts, freight and rework costs, and 787 supply chain costs.
Spirit ended the third quarter with cash and cash equivalents valued at $671 million, less than half the $1.4 billion it had one year earlier.