Electric aircraft propulsion company Magnix has consolidated its operations at a new headquarters in Everett, Washington, a move the company says will give it a greater presence in Washington's aerospace hub.
Magnix had been headquartered south of Everett in Redmond, Washington, and also had operations, including an engineering facility, in Australia.
The new Everett headquarters "will consolidate all its Australia and Redmond operations under one roof to be home to the global headquarters, engineering, manufacturing and testing of its electric propulsion systems," Magnix says on 19 January.
The company began moving into the new facility in "late fall" 2020 and "as of January 2021 have fully moved all operations into our new headquarters", it says.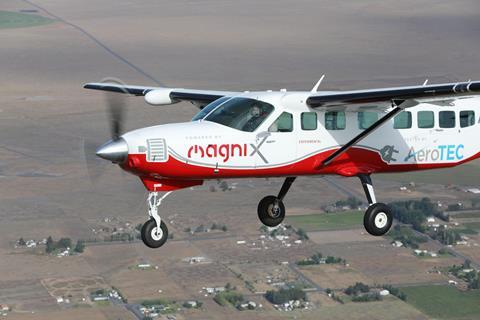 The company's Everett site encompasses more than 3,716sq m (40,000sq ft) of space, and the consolidation there has already led Magnix to expand its local hiring, it says.
Magnix does not clarify the status of the facilities at which it had operated, in Redmond and Australia. The company has about 50 staff and expects to have 60 employees in the next year, it says.
The company notes that one of its top customers, all-electric aircraft maker Eviation, has an operation Arlington, Washington, which is near Everett.
Magnix is one of two companies hired by Eviation to produce an electric propulsion system for Eviation's in-development, nine-passenger electric commuter aircraft Alice. Eviation has said it expects Alice, powered by a 920kWh lithium-ion battery system, will fly for the first time this year and enter service in the second half of 2023.
Magnix's other projects include providing the electric propulsion system for a modified all-electric De Havilland Canada DHC-2 Beaver and for an all-electric Cessna 208B Grand Caravan.
Story updated on 20 January to include more details from Magnix about the move and its staffing.