Mexican start-up airline Aerus has become the latest carrier to express interest in acquiring Eviation's in-development all-electric commuter aircraft Alice.
The Monterrey, Mexico-based company signed a letter of intent to acquire 30 of the aircraft, which it intends to deploy on flights within northeast Mexico, Eviation said on 17 January.
"Working with Eviation to bring a zero-emissions fleet to our region will transform the way we experience air travel and connect communities like never before," says Aerus chief executive Javier Herrera Garcia.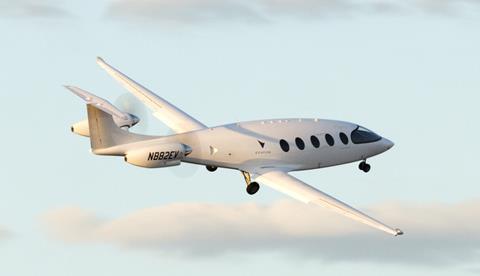 When Aerus expects to receive its first Alice remains unknown, though Alice hopes to begin delivering the type in 2027.
Aerus has not yet started flying but plans to begin operating in the first quarter of this year, according to its website.
Aerus seems poised to launch flights using Cessna Grand Caravans. In December 2022, Cessna parent Textron Aviation disclosed that Aerus had ordered four 14-seat Grand Caravans (of which three had been delivered) and two 19-passenger Cessna Skycouriers.
Arlington, Washington-based Eviation says Alice will enable Aerus to halve its carbon emissions by 2033.
"Our aircraft is an ideal fit for Aerus as a large number of flights in northern Mexico are already less than 250 miles," says Eviation chief executive Gregory Davis. "We are always pleased to receive the endorsement of forward-thinking airlines."
The manufacturer has not disclosed details related to the Aerus agreement, nor has it specified possible delivery dates. Aerus did not immediately respond to a request for more information.
"Aerus intends to utilise Alice for middle-mile travel across regions including [the Mexican states of] Nuevo Leon, Tamaulipas, Coahuila and Veracruz, providing historically underserved communities in northern areas of the country with access to carbon-free, cost-effective and convenient air travel," Aerus says.
On 17 January, Eviation says it expects to begin the Alice programme's certification test flights in 2025 and to deliver the first of the type in 2027.
Eviation completed Alice's first flight on 27 September 2022.
Powered by twin 700kW (939shp) Magnix Magni650 electric motors, Alice will have a range of 250nm (463km) and a maximum operating speed of 260kt (482km/h), Eviation's website says.
In November 2022, Eviation said the value of its Alice orderbook topped $2 billion, with "almost 300 aircraft" on order.
Notable customers include US regional carrier Cape Air. Other companies to commit in recent months to acquiring Alice include Germany's Evia Aero, Australia's Northern Territory Air Services and Air New Zealand.