Aerus, a start-up regional airline in Mexico, will launch operations with Textron Aviation's Cessna SkyCourier and Cessna Grand Caravan EX turboprops.
The Wichita aircraft manufacturer said on 21 December that Aerus will take two 19-passenger SkyCouriers and four Grand Caravans, which have room for 14 occupants. The first three Grand Caravans have already been delivered, Textron Aviation says.
"A fleet of Cessna SkyCouriers and Cessna Grand Caravans will enable Aerus to be successful in growing service range and frequency of flights," adds Marcelo Moreira, Textron Aviation's vice-president of sales for Latin America. "Both aircraft offer superior performance and low operating costs in combination with flexibility in cabin and payload."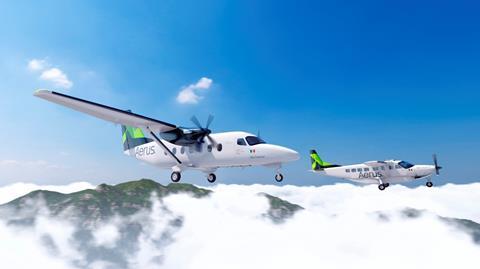 Aerus is based in Monterrey, Mexico, and plans to fly "unserved national and international routes". It intends to begin commercial flights in the first quarter of 2023, Textron says.
"When we looked at options within the market to operate the routes we had in mind, it was a no-brainer decision to choose the Grand Caravan EX and the SkyCourier from Textron Aviation, which will be the cornerstone of the Aerus project," says Aerus chief executive Javier Herrera.
Textron delivered its first twin turboprop SkyCourier to FedEx in May, after the type was certificated by the Federal Aviation Administration in March. FedEx holds orders for 50 of the aircraft, which are powered by twin Pratt & Whitney Canada PT6A-65SC turboprops. FedEx also holds options to order another 50 of the type, according to Textron.
The company launched the SkyCourier development programme in 2017. The aircraft has capabilities similar to those of the Beech 1900D, which has long been out of production. The SkyCourier made its maiden flight in August 2020.