The US Federal Aviation Administration has disclosed new details about an electric problem that forced the grounding of more than 100 recently-produced Boeing 737 Max.
Though the issue primarily affects jets delivered by Boeing after the FAA lifted the grounding in November 2020, several Max delivered before the grounding are also affected, according to the agency.
Regulators globally grounded the Max in mid-March 2019.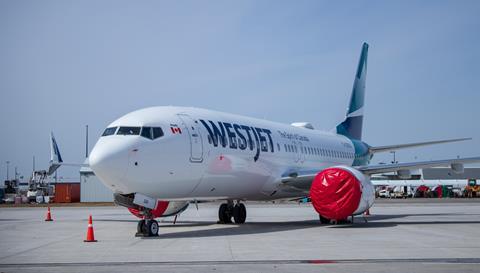 The issue involves "potential degradation of bonds associated with electrical grounding of equipment that could affect the operation of certain systems", says the FAA in a 22 April "Continued Airworthiness Notification to the International Community".
Potentially affected Max systems include standby power control units, "P6" circuit breaker panels and main instrument panels, it adds.
Boeing notified the FAA about the concern, which it discovered "after electrical power systems did not perform as expected during the testing of a newly manufactured Model 737-8 airplane," says the FAA's notice.
Chicago-based Boeing publicly disclosed the problem on 9 April but did not specify how many aircraft were affected. Boeing recommended airlines pull affected jets from service.
The FAA's 22 April memo specifies that the problem affects 106 737 Max 8s and Max 9s, including 71 in the fleets of US airlines.
Those jets have manufacturing line numbers between 7,399 and 8,082. Boeing manufactured them after making design changes in "early 2019", the FAA says.
Of the 106 aircraft, Boeing delivered 18 in early 2019 prior to the global grounding, according to Cirium fleets data.
Operators with affected jets include four large US carriers: Alaska Airlines, American Airlines, Southwest Airlines and United Airlines.
Others are Air Canada, Belavia, Blue Air, Cayman Airways, Copa Airlines, GOL, Icelandair, Minsheng Leasing, Neos, Shandong Airlines, SilkAir, SpiceJet, Sunwing Airlines, TUI, Turkish Airlines, Valla Jets, WestJet and Xiamen Airlines, says the FAA.
"This issue is not related to recertification of the flight control system on the 737 Max, un-grounding of the aircraft, or its return to service," the FAA's notice says. "All affected in-service airplanes passed all testing prior to delivery and there have been no reported in-service failures due to this condition."