Embraer announced several shifts in its commercial aircraft division's management team just weeks after Arjan Meijer took the helm of the division at the Brazilian airframer.
The San Jose dos Campos-headquartered company says on 13 August that it has named new executives to lead its various regions including Europe, Asia Pacific and the Americas. The move comes as the company refocuses its strategy in the wake of the global coronavirus pandemic and a failed attempted merger with Boeing earlier this year.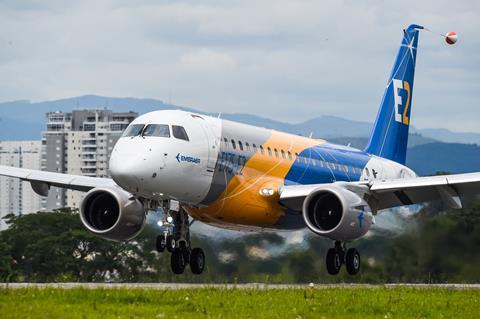 "These moves are part of Embraer's strategy to better harness and cross-pollinate our global experience and work closer with our customers and partners as we all navigate these challenging times," says Meijer.
Martyn Holmes, previously vice-president for Europe, Russia and Central Asia, is the unit's new chief commercial officer, and will continue to be based at Embraer's European head office in Amsterdam.
Cesar Pereira, a 17-year Embraer veteran, previously based in Singapore, has been appointed vice-president of Europe, Middle East and Africa and will relocate to Amsterdam.
Raul Villaron, who has been with the company for 15 years, will move into the vice-president Asia-Pacific role, based in Singapore.
Mark Neely will take over the vice-president role in the Americas.
The shake-up comes as chief executive Meijer sets up his management team following the twin crises of the coronavirus and the last-minute cancellation of a merger with Chicago-based Boeing's commercial aircraft unit.
In April, the US airframer called off a deal with the Brazilian company's commercial aviation division at the 11th hour. Boeing was to pay $4.2 billion for an 80% share of Embraer's commercial division, and the Brazilian company had invested more than $120 million to carve out that business before the agreement collapsed.
As a result, John Slattery, who had been tapped to take over the top spot at the joint venture, left the company and was replaced by Meijer, previously the commercial aircraft division's chief commercial officer.
Embraer took charges amounting to more than $200 million during the second quarter of 2020, including recognition of a depreciation and amortisation expense of $101 million related to the termination of Boeing's planned acquisition. The depreciation and amortisation had been halted in February last year, when the Boeing partnership was approved.
Earlier this month, the company also said that it was pushing back the entry into service until 2023 of its re-engineered E175-E2, the third of its new E2 jet series, which flew on its maiden flight late last December. The airframer said it took the decision based on current commercial aircraft market conditions, but insisted that it remains committed to the project.