Pratt and Whitney's engine deliveries sunk by half year-on-year in the second quarter, while aftermarket sales also tumbled, pushing P&W to a $457 million loss for the period.
The Connecticut-based engine maker shipped 92 large commercial aircraft engines to customers in the second quarter, down 47% year-on-year, according to parent Raytheon Technologies.
The second-quarter figure brings to 303 the number of large commercial engines P&W shipped in the first half of 2020, down 16% year-on-year.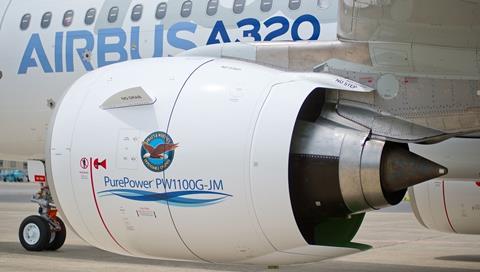 Massachusetts-based Raytheon disclosed the figures on 28 July when it released second-quarter earnings.
P&W's sales declined 32% year-on-year in the second quarter to $3.5 billion.
The decline reflects a 42% drop in sales of new products like P&W's line of PW1000G geared turbofans. P&W's commercial aftermarket sales sank 51% year-on-year, Raytheon reports.
Aftermarket sales have been hammered as airlines globally parked jets in response to weak air travel demand due to the pandemic.
"We expect the pressures in commercial aerospace to persist as [manufacturers'] production levels and aftermarket activity remain low," Raytheon chief executive Greg Hayes says during the second-quarter earnings call.
P&W's military engine sales increased 11% year-on-year in the second quarter.
In response to commercial-side declines, Raytheon in recent months embarked on a broad cost-cutting plan aimed largely at its P&W and Collins Aerospace businesses.
The company has reduced its workforce by some 8,000 staff, Hayes said.
Raytheon remains on track to save some $6 billion by year-end, including $2 billion in cost cuts and $4 billion in "cash conservation actions". The company has already slashed $600 million in costs and conserved another $1 billion, he says.
Cash conservation measures can include actions like burning down inventory to stem cash outflows.
"We are taking difficult but necessary actions to strengthen the business," says Hayes. "Our balance sheet remains strong."
Raytheon itself lost $3.8 billion in the second quarter, reversing a $1.9 billion profit in the second quarter of 2019.