Piper Aircraft has a deal to deliver a fleet of 55 new trainer class aircraft to Blue Line Aviation – a flight school headquartered in Smithfield, North Carolina – with an option for a further 60 trainers.
The Florida-based general aviation manufacturer said on 28 March that the purchase agreement includes a full replacement of Blue Line's existing single- and multi-engine fleet over the next four years, with deliveries of new Archer TX and Seminole aircraft set to begin in the second half of this year.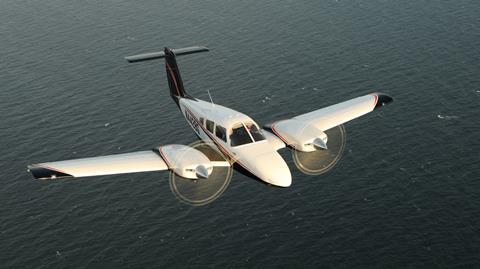 "Expanding our fleet partnership to Piper is a step towards reliably expanding our fleet rapidly to serve more students," says Trey Walters, founder of Blue Line.
The aircraft will be deployed at Blue Line's primary training facility at Johnston County airport in Smithfield and a soon-to-expand location in Winter Haven, Florida. Founded in 2012, the flight school is best known for its accelerated pilot certification programme.
"In as few as five and a half months, students can go from no experience to fully confident and certified pilots, fully prepared for a career in aviation," Blue Line says.
"Blue Line Aviation has revolutionised the flight training market with their career pilot programme," says Ron Gunnarson, Piper's vice-president of sales, marketing, and customer support. "We look forward to helping them grow their mission to provide timely, cost-effective and thorough flight training in the world's finest training aircraft."
The Piper Archer TX "provides students everything needed to learn to fly safely", the company says. The two-seat trainer class aircraft – propelled by a 180hp Lycoming engine – cruises at 128kt (238 km/h) and has a take-off distance of 1,400ft (427m).
Training on the two-engine Seminole "eases students into multi-engine flying", Piper says. The light aircraft cruises at 162kt (300km/h), has a take-off distance of 1,490ft (454m) and is "designed specifically for efficient, comfortable and safe multi-engine flight training".