The White House confirms that US secretary of commerce Gina Raimondo will meet today with a representative from Qatar Airways amid reports the meeting will involve Qatar ordering a freighter version of Boeing's 777X.
Boeing has yet to officially launch the 777X Freighter, but as recently as last week chief executive David Calhoun said the airframer was "offering" an all-cargo variant of its new widebody to customers.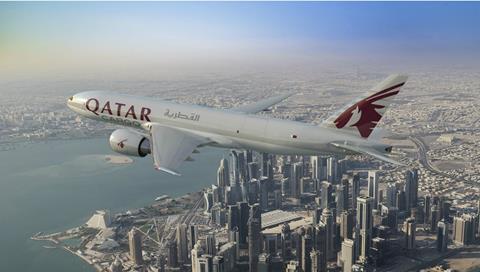 Though the White House confirms the scheduled 31 January meeting between Qatar Airways and the commerce secretary, neither Boeing nor Qatar immediately responded to requests for comment.
The meeting would coincide with a visit to the White House by Qatari emir Tamim bin Hamad Al-Thani.
On 31 January, a Reuters reporter said Boeing chief executive David Calhoun will be in Washington on 31 January for an order-signing ceremony at 12:30.
Reuters reported last week that Qatar Airways was negotiating with Boeing to order "around 34" 777XFs. The deal would make Qatar the type's launch customer.
News of the meeting comes amid an increasingly acrimonious dispute between Qatar and Airbus. The airline has removed A350s from service due to alleged defects involving fuselage paint, and in late 2021 Qatar sued Airbus in a London court. Airbus has said the allegations are inaccurate.
In January, Airbus cancelled an order by Qatar for 50 A321neos.