Raytheon Technologies has successfully test-run a hybrid-electric propulsion system it is developing to power a De Havilland Canada Dash 8-100 regional airliner.
The company completed the "propulsion system's initial run" at subsidiary Pratt & Whitney's facility in Longueuil, Quebec, near Montreal, Raytheon said on 20 December.
The system "performed as expected", leaving Raytheon on track to hit its target of beginning the system's flight testing in 2024.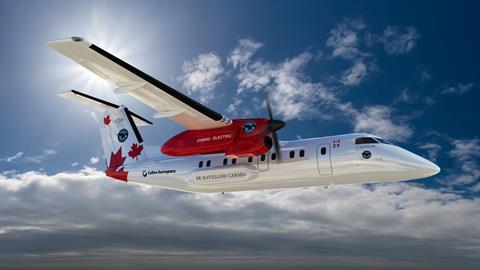 "Hybrid-electric propulsion technology offers significant potential to optimise efficiency across a range of different aircraft applications," says P&W executive director of new products and services Jean Thomassin. "With our ground-test programme now well underway, planned flight testing will enable us to accelerate the demonstration of this next-generation sustainable propulsion technology."
Raytheon's hybrid-electric system consists of a 1MW electric motor developed by Collins Aerospace (also a Raytheon company) mated to a P&W "fuel-burning engine".
The companies have disclosed few details about that engine but say it is "specially adapted for hybrid-electric operation". Project leaders have said previously that the engine will generate 1MW of power, for a combined 2MW of hybrid-electric power.
"This powerplant technology will enable more-efficient engine performance during the different phases of flight, such as take-off, climb and cruise, reducing fuel burn and CO2 emissions by up to 30% compared to today's most advanced regional turboprop aircraft," says Raytheon.
The project kicked off several years ago under now defunct United Technologies, which combined with Raytheon in 2020. The effort involves replacing one of a Dash 8's Pratt & Whitney Canada PW100 turboprops with the hybrid-electric system. Collins developed the 1MW motor in the UK city of Solihull.
Quebec flight-test and research company Cert Center Canada will modify and operate the Dash 8 test aircraft, Raytheon says.
Canadian aerospace companies Chrono Aviation, Elisen & Associes and WAAS Aerospace will "integrate the hybrid-electric powertrain, battery system and high-voltage electrical harnesses" to the Dash 8, says Cert Center Canada's president John Maris.
Swiss firm H55 will supply the powerplant's battery system, Raytheon adds.
The hybrid-electric development project also has funding from the governments of Canada and Quebec, Raytheon has said.