Boeing declines to comment about a report that it has decided to end 787 production in Everett and consolidate that work at its other 787 manufacturing site in North Charleston, South Carolina.
The Wall Street Journal reported on 29 September that Boeing has made the decision and is setting the plans this week.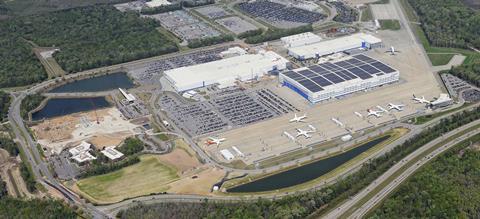 On 29 July, Chicago-based Boeing announced it was considering consolidating 787 production at either Everett or North Charleston as part of 787 manufacturing footprint review.
The move came as the company cut commercial aircraft production rates and laid off staff in response to the coronavirus downturn and amid the ongoing 737 Max grounding.
Numerous analysts have speculated that Boeing will chose South Carolina.
The company declines to say if a decision has been made.
"We will prudently evaluate the most-efficient way to build airplanes, including studying the feasibility of consolidating 787 production in one location," the company says in a statement. "We will take into account a number of factors and keep an eye on future requirements as we think through the long-term health of our production system."
"Boeing remains committed to Washington state and South Carolina," it adds. "We understand that our employees have questions and we will communicate details, including any potential workforce impact, as soon as possible."