Boeing's second 777-9 flight-test aircraft took to the skies for the first time on 30 April, departing Paine Field in Everett, Washington and landing nearly 3h later at Boeing Field in Seattle.
The flight of test aircraft "WH002" shows that Boeing's 777X work continues amid the coronavirus pandemic. The flight follows the 25 January first flight of the first test aircraft, dubbed WH001.
Boeing will use the second flight-test 777-9 to evaluate "handling characteristics and other aspects of airplane performance". The first flight of WH002 lasted 2h 58min, with the aircraft landing at 14:02 local time.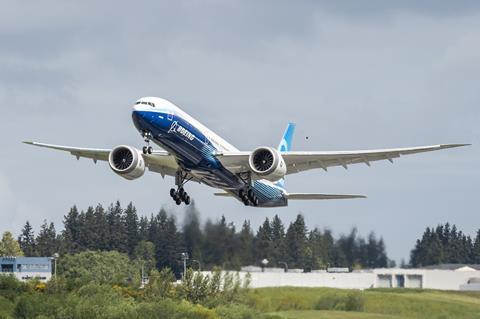 "An array of equipment, sensors and monitoring devices throughout the cabin allows the onboard team to document and evaluate the airplane's response to test conditions in real time," Boeing says.
Boeing plans to add another two 777-9s to the flight-test fleet and expects the GE Aviation GE9X-powered widebody to receive regulatory certification in 2021, with deliveries beginning the same year.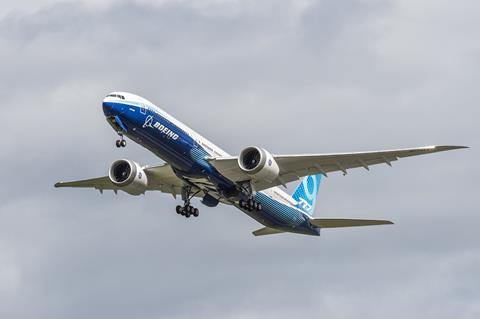 The company's test pilots have completed nearly 100h of flight in the first flight-test aircraft, operating that jet at "a variety of flap settings, speeds, altitudes and system settings as part of the initial evaluation of the flight envelope", according to the company.
"With initial airworthiness now demonstrated, the team can safely add personnel to monitor testing onboard instead of relying solely on a ground-based telemetry station, unlocking testing at greater distances," Boeing adds.