In a move reflecting ambition to form international partnerships, Brazilian airframer Embraer has nominated two new members to its board of directors – Kevin McAllister, formerly of Boeing and GE Aviation, and Todd Freeman, also formerly of GE Aviation.
"This is a big moment for Embraer", the company tells FlightGlobal, noting Embraer is seeking to develop new agreements with other global companies and to expand its global reach into new regions and with new projects.
The company will hold a shareholder meeting on 16 August for the purpose of voting to approve McAllister and Freeman to the board, Embraer says on 16 July.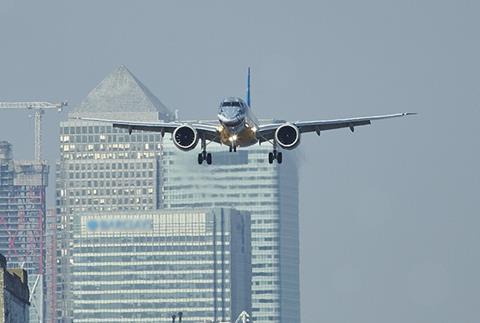 Following the 2020 collapse of a planned merger between Boeing and Embraer's commercial aircraft business, Embraer executives have stressed that the company is seeking new partners.
"I'm sure they will add immense value during a time when we are focused on the company's sustainable growth through global partnerships, innovation and business diversification," Embraer board chair Alexandre Silva says of McAllister and Freeman.
McAllister had been chief executive of Boeing Commercial Airplanes from November 2016 until October 2019, when, amid the 737 Max crisis, he departed and was succeeded by Stan Deal.
Prior to working at Boeing, McAllister worked for 27 years at GE Aviation, where, from 2014 to 2016, he was president and chief executive of GE Aviation Services.
Since June, McAllister has worked at Florida-based aerospace- and defence-focused private equity firm AE Industrial Partners, where he is senior operating partner, according to that company's website.
Freeman worked for 29 years at GE, until 2019. That period included 18 years during which Freeman worked at GE's aerospace leasing unit GE Capital Aviation Services (GECAS). He had been GECAS' senior vice-president and regional manager, with focus on the Middle East, Africa and Russia, according to his LinkedIn page.
In 2019, Ireland-based aircraft leasing company Nordic Aviation Capital named Freeman special advisor to the company's chairman.
"The nominees… are both foreigners with recognised global experience in the commercial aviation sector," Embraer says.
The two board additions, assuming they are voted in, will bring Embraer's number of independent directors from eight to 10, but only temporarily while the company executes its international expansion plans. Independent directors have no ties to the company except stock ownership. The number of independent directors will revert back to eight in 2023, Embraer says.
The company's board currently includes the eight independent members and three "alternative members", one appointed by the government, which holds the so-called "Golden Share", and two nominated by employees.
McAllister's and Freeman's nominations come after Embraer in April said it was seeking two new "foreign" board members with "recognised experience in commercial aviation". Adding the seats aligns with the company's 2021-2025 strategy, which is "focused on growing through global partnerships, innovation and business diversification", Embraer said in April.
The company is "going through an accelerated evolution process" aimed at "enhancing our global vision", it said.