Southwest Airlines has ordered 100 Boeing 737 Max 7s, a deal that cements the manufacturer as Southwest's long-term aircraft partner and throws enormous support behind the Max programme.
Additionally, the Dallas-based airline has converted orders for 70 737 Max 8s into orders for 70 737 Max 7s, it said on 29 March.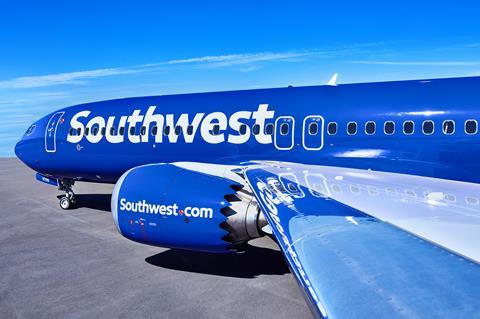 Those changes, combined with previously placed orders, bring Southwest's firm Max orderbook to 349 jets, comprising 200 Max 7s and 149 Max 8s.
Southwest has also taken options to acquire a further 155 Max 7s and Max 8s, bringing its total Max options to 270, it says.
"The company has completed the multi-year evaluation of the successor aircraft to its Boeing 737-700 model, with the selection of the Boeing 737 Max 7 aircraft," Southwest says.
Southwest says the selection means it will "continue to build its business around the 737 Max family".
The US carrier intends to take delivery of 30 Max 7s annually from 2022 through 2025, and to have 135 in the fleet by the end of 2026.
The US Federal Aviation Administration has not certificated the Max 7, but Boeing has said it expects to begin delivering the variant this year.
Southwest already operates 33 737 Max 8s and intends this year to receive another 28, including 19 from Boeing and nine from lessors.
But after 2021, Southwest will halt Max 8 deliveries until 2026, its latest fleet plan shows.
Southwest's broader Max delivery timetable now includes deliveries through 2031, adjusted from through 2026. The incoming jets will replace a "significant" number of the 462 737-700s Southwest expects to retire within 10 to 15 years, it says.
"Today's commitment to the 737 Max solidifies our continued appreciation for the aircraft and confirms our plans to offer the Boeing 737 series of aircraft to our employees and customers for years to come," says Southwest chief executive Gary Kelly.
Southwest's order comes four months after the FAA lifted an 18-month grounding of the Max following two crashes and two weeks since the carrier restored commercial flights with the type.
Boeing says Southwest's order "brings more stability for our biggest commercial programme and will ensure that our entire 737 family will be building new airplanes for Southwest for years to come".
The Chicago-based airframer also calls Southwest's order "a big vote of confidence for commercial air travel" that comes amid an accelerating Covid-19 vaccine rollout.
Though Southwest has operated only 737s for nearly all its existence, executives said in recent years they were evaluating other types for an order, including the 110-130-seat Airbus A220.
But single-type-fleet benefits seem to have pushed Southwest back to Boeing.
"Our refreshed order book with Boeing allows Southwest to preserve the low-cost advantages of a single-fleet type, and the balance of firm orders and options – along with flexibility with 737-700 retirement plans — allows the opportunity to manage our fleet needs over the next decade," says Southwest chief financial officer Tammy Romo.