Wrecking crews dismantled one of Mitsubishi Aircraft's SpaceJet prototype regional jets at Moses Lake on 8 March, physically and symbolically closing a chapter on Japan's once-ambitious regional jet programme.
Pictures show the aircraft – an M90 variant – being torn apart by heavy machinery at Grant County International airport.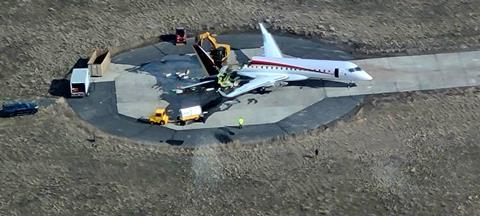 The aircraft's fuselage is split in half just aft of its wings, the rear section and empennage resting on the ground. The aircraft had held registration JA21MJ and was manufactured in 2015, according to a person familiar with the matter and to Cirium fleet data.
Prior to the SpaceJet's programme's demise, Mitsubishi Aircraft been conducting flight tests at Moses Lake as part of its effort to secure certification from the US Federal Aviation Administration.
The company moved the first M90 to Moses Lake in 2016 and had said it planned to base four aircraft there.
But the programme never reached it to certification. In 2020, amid the pandemic and financial strain, Mitsubishi Aircraft parent Mitsubishi Heavy Industries (MHI) paused SpaceJet development.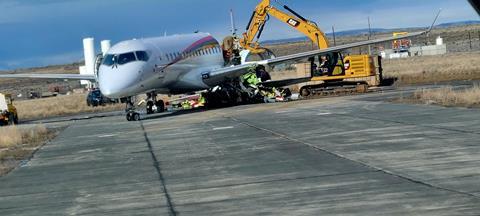 Then last month came the final blow, when MHI revealed it had formally terminated the SpaceJet programme, citing technological challenges, decarbonisation pressure and difficulty working with international partners.
Despite shuttering the project, MHI said it "aspires to return [complete] aircraft manufacturing to" Japan.
MHI did not immediately respond to questions about the M90's demolition. The status of the other test aircraft is unclear.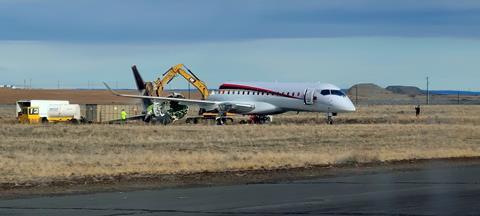 Mitsubishi Aircraft launched what was then called the Mitsubishi Regional Jet programme in 2007, planning to develop a family of regional jets with 70 to 90 seats.
In 2019, amid repeated delays, the company rebranded the programme as SpaceJet and overhauled the aircraft lineup, cancelling a 70-seat variant and revealing a new 76-seat version called the SpaceJet M100, which sat alongside the 88-seat M90.
Introducing the M100 reflected a move by the company to offer a 76-seat jet that complied with aircraft-weight limits specified in US airline pilot contracts.
At its height, Mitsubishi Aircraft held orders for more than 200 SpaceJets. But the programme stumbled repeatedly amid delays attributed to certification hang ups.